Australia has temporarily grounded its fleet of Lockheed Martin MH-60R anti-submarine warfare helicopters after one example ditched in the Philippine Sea.
The helicopter's crew of three conducted an emergency water landing during a routine night operation, says the Royal Australian Navy (RAN).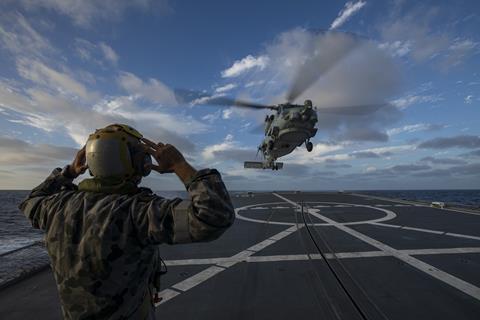 The guided missile destroyer HMAS Brisbane – from which the helicopter was operating – dispatched boats that rescued the crew within about 20 minutes.
Both the HMAS Brisbane and HMAS Warramunga are searching for any debris, which could yield clues as to the cause of the accident.
"With the aircrew safe, investigating the circumstances that led to the helicopter ditching is the priority at the moment," says Rear Admiral Mark Hammond.
"As a precaution, we have temporarily paused flying operations of the MH-60R Seahawk fleet."
The loss of the MH-60R reduces Canberra's fleet of the type from 24 examples to 23. Cirium fleets data shows that the average age of the fleet is 6.2 years, with the rotorcraft delivered from 2013 to 2016.
The development came less than a week after the US Department of State cleared a possible Foreign Military Sales deal for the RAN to obtain an additional 12 MH-60Rs.
That approval came about three weeks after a security pact was signed between Australia, the UK and the USA (known as AUKUS) that included an agreement to supply Canberra with at least eight nuclear-powered submarines.