UK Royal Navy (RN) personnel have begun operational training with the first Leonardo Helicopters AW101 Merlin HM2 to be modified for airborne surveillance and control (ASaC) duties under the Crowsnest programme.
Under a £269 million ($370 million) deal awarded in 2016, Crowsnest will see prime contractor Lockheed Martin equip 10 Merlins with a Thales radars and mission system. Modification work is carried out by Leonardo at its Yeovil site in Somerset.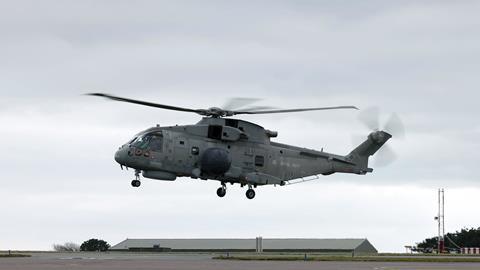 A replacement for the RN's retired Westland Sea King 7s, which were previously employed in the ASaC role, a trio of Crowsnest-equipped Merlins will be embarked with HMS Queen Elizabeth on the new Carrier Strike Group's first deployment later this year.
An initial three aircraft have so far been delivered to 820 Naval Air Squadron at RNAS Culdrose in Cornwall. Crew training has been taking place since last year.
Initial operating capability for Crowsnest is due in September this year, to be followed by full operational capability in May 2023.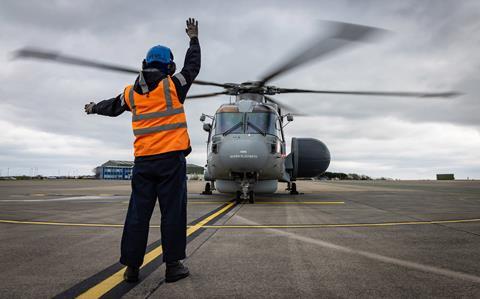 Crowsnest is a modular system which can be installed on any of the RN's 30 Merlin HM2 anti-submarine warfare helicopters. It features a modified Thales Cerberus mission system and Searchwater 2000 radar.
"Lockheed Martin and its industry partners are thrilled to see the Crowsnest aircraft enter service with the Royal Navy ready to support the Carrier Strike Group," says Paul Livingston, vice-president and group managing director of Lockheed Martin UK.