Russian Helicopters is to begin work on a new shipborne rotorcraft for the country's navy, which will be capable of performing troop transport, search and rescue and anti-submarine warfare (ASW) missions.
Following the signature of a contract between the parties at the Army 2020 exhibition on 25 August, Russian Helicopters will now leverage initial research and development work already performed on the project.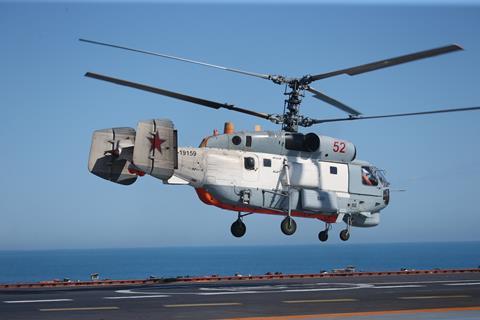 "The new shipborne helicopter design has now been completely established, and we are moving on schedule, in accordance with the goals set by the customer," says Andrey Boginsky, director general of Russian Helicopters.
The company expects the first stage of development to be completed within three years.
No details of the proposed helicopter have been released, however, and Russian Helicopters was unable to provide additional information, such as the rotorcraft's weight class.
Development work will be carried out by both the Kamov and Mil design bureaux under the airframer's new National Helicopter Centre structure.
Russian Naval Aviation currently operates a variety of types for the stated missions, including Kamov Ka-27s in the ASW role.
Separately, the airframer has agreed the delivery schedule for the first Mil Mi-26T2 ultra-heavy transport destined for Russia's emergencies ministry.