Russian Helicopters is continuing its efforts to develop locally produced components for its rotorcraft range in the face of Western sanctions against the country's aerospace industry.
New-generation rotor blades have now been developed for the Ansat light-twin made from polymer composite material, says the manufacturer; they will be installed on the "import-substitution" version of the helicopter.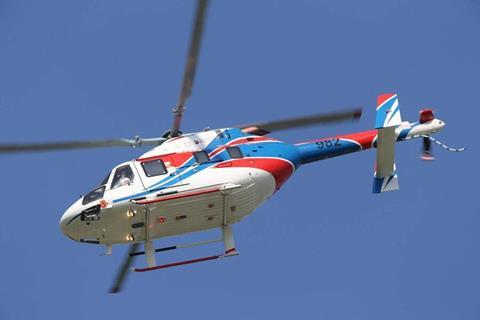 Although Russian Helicopters touts the "improved aerodynamic properties" and enhanced "flight performance" from the new blades, it is likely their development has been necessary to address the shortfall of Western-supplied composite materials.
Bench tests of the prototype main and tail rotor blades – a joint development between Kazan and Russia's TsAGI central aerohydrodynamic institute – is under way, leading to a first flight of an Ansat equipped with the new blades towards the end of 2023.
Mass production for new aircraft is planned to be launched in 2024, with the potential for retrofit also being analysed, says the manufacturer.
Russian Helicopters claims the new blades, which are equipped with limited icing protection, will enable an improved rate of climb, and cruise speed will increase to 126kt (235km/h), from 118kt. Maximum take-off weight will also rise by 200kg (440lb), to 3.8t.
Despite its strong sales success, notably for emergency medical services missions in Russia, the Ansat is heavily reliant on Western content, particularly its Pratt & Whitney Canada PW207K engines.
Russian Helicopters was already seeking to add a domestically produced powerplant to the Ansat prior to the imposition of sanctions, working with United Engine (UEC) to integrate the 650shp (485kW)-rated Klimov VK-650V.
Flight tests of an Ansat equipped with a VK-650V are scheduled for 2023, leading to Russian certification in 2024, UEC said in May.
Cirium fleets data records 13 Ansat deliveries this year, against 17 in 2021.

Dominic Perry is deputy editor of Flight International but also contributes extensively to flightglobal.com. Although specialising in the coverage of the helicopter industry, he has written on most topics in aerospace – be they commercial, defence or business aviation. In addition, there has been an increasing focus on the decarbonisation of the industry and zero-emission flight initiatives.