Russian Helicopters has signed an agreement with Russia's defence ministry to supply upgraded Kamov Ka-52M Alligator attack helicopters.
The upgrade work involves the installation of improved avionics and updated computers, improving the type's "weapons applications capabilities" and its ability to operate at night, says Russian Helicopters. Range has been improved, and an upgraded load control system integrated.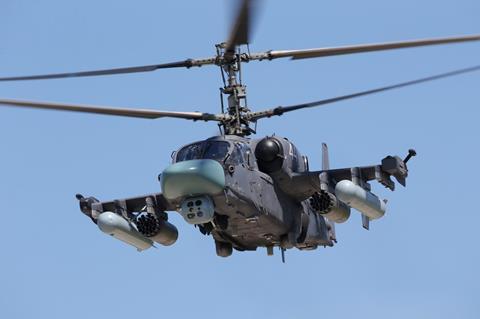 Deliveries are to commence in 2022. Russian Helicopters has not provided details about the number of Ka-52s to be upgraded, or the cost of the project.
Without providing specifics, Russian Helicopters says "advanced missile weapons" have been tested and installed on the type. The helicopter also gains the ability to work with unmanned air vehicles, which it says will improve situational awareness and allow intelligence gathering at greater ranges.
"Intensive work is underway to install a radar station with an active phased antenna array," it adds.
Preparations for serial production of upgraded Ka-52Ms have already commenced at the AAC ''Progress'' facility in Russia's Primorye region.
"The Ka-52 is one of the best attack helicopters in the world, but even the best aircraft needs timely modernisation, which will expand its combat capabilities," says Russian Helicopters director general Andrey Boginsky.
"With [the] updated version's development, our designers drew on the experience of Alligator's operations, including in real combat situations. Therefore, everything in the modernised attack helicopter is aimed at improving combat effectiveness in all weather conditions."
An upgraded Ka-52M made its public debut at the MAKS air show in Moscow in mid-July, participating in the flying display. Russian Helicopters announced the receipt of its order at the Army 2021 event, which is being staged at Kubinka air base from 22-22 August.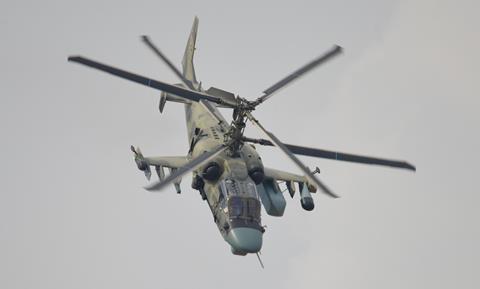 Cirium fleets data indicates there are 164 Ka-52s in service globally. The main operator is Russia's air force, with 116 examples, and an additional 40 on order. Russian Helicopters itself is listed as having six examples, and the Russian navy three.
Overseas, the Egyptian air force operates 39 Ka-52s with orders for seven more, while Algeria has letters of intent for 12.