The pilot of a Russian military helicopter has defected to Ukraine, delivering his fully-intact aircraft and crew to Kyiv's forces.
Ukrainian military intelligence on 23 August said it had engineered the defection, convincing the Russian aviator to fly a Mil Mi-8 armed assault transport helicopter across the 18-month war's front line.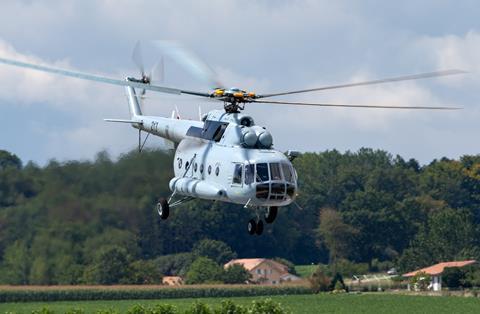 "We were able to find the right approach to a person," says Kyrylo Budanov, head of Kyiv's military intelligence directorate, in an interview with the US government-backed news outlet Radio Free Europe/Radio Liberty (RFEFL).
"We were able to create conditions to take out the whole family unnoticed and eventually create such conditions that [the pilot] could overtake this aircraft with a crew that did not know what was happening," Budanov adds.
That unsuspecting crew met a grim fate upon landing in Ukraine. Budanov says the remaining aircrew were killed after attempting to escape, upon realising where their aircraft had been set down.
"Unfortunately, they were destroyed," RFERF quotes Budanov as saying. The intelligence chief added that Kyiv had hoped to capture the unwitting Russians alive.
Neither Budanov nor any other Ukrainian officials would disclose the identity of the Mi-8's pilot or where in Russia he was stationed. However, unsubstantiated reports in the local Ukrainian media claim the covert flight landed at a Ukrainian air base near Poltava – some 186nm (300km) from the war's front line.
Pro-Russia military bloggers, who often act as surrogates for the Kremlin, initially claimed the incident was the result of a navigational error, rather than an intentional defection.
The Mi-8 in question was being used by Russian forces to transport spare aircraft parts, including for Sukhoi Su-27 and Su-30M fighters, according to local media outlet Ukrainska Pravda.
Citing an unnamed "high-ranking" source in military intelligence, Ukrainska Pravda says two Russian crew were killed in the operation.
The Russian air force operates 783 Mi-8s, along with the newer Mi-17, according to Cirium fleets data.