Two of Europe's leading propulsion specialists are joining forces to develop a clean-sheet helicopter engine to equip a future European heavy military rotorcraft that could enter service in the 2040s.
The subject of a memorandum of understanding signed at the Paris air show this morning, the new high-power turboshaft will be developed by a joint venture between Safran Helicopter Engines and MTU Aero Engines.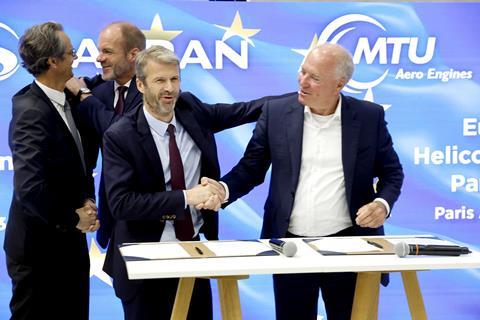 Cedric Goubet, chief executive of Safran Helicopter Engines, says the venture's ambition is to deliver "a totally European solution".
"It is a matter of sovereignty, it is a matter of strategic autonomy," he adds.
Goubet says it is "premature" to speculate on the size of the engine to be developed, pointing out that it will depend on customer requirements.
"But we will be ready if we need to develop a very powerful engine," he says; it is likely to be in excess of 4,000shp (3,000kW) but could even extend to a 6,000shp-class turboshaft.
Initial technology maturation work should enable first ground runs of a new engine by the middle of next decade, says Michael Schreyogg, chief programme officer for MTU.
Technologies to be incorporated will include 3D-printed parts and other advanced materials, plus higher levels of hybridisation.
Details of the workshare on the joint-venture are still being hammered out, but Schreyogg points out that Safran Helicopter Engines is a "leader in turbine technology, while MTU has good competencies on the compressor side".
The partners hope to formalise the joint venture "very, very fast – not within years but months", says Schreyogg. It will be based at Safran's facilities in Pau, France, but with a German chief executive.
Safran Helicopter Engines and MTU previously worked together to develop the MTR390 powerplant for the Airbus Helicopters Tiger, also in partnership with Rolls-Royce.
Goubet says the venture is seeking additional partners from across Europe to drive the sovereignty agenda.
Europe is shaping the requirements for a future next-generation rotorcraft through two parallel projects: the industry-led ENGRT effort seeks to mature technologies supporting that development and involves companies, including Airbus Helicopters and Leonardo Helicopters, from eight nations; while a PESCO initiative, led by France, is a four-country grouping.
Additionally, a NATO-led project called Next Generation Rotorcraft Capability is seeking to design and develop a new heavy helicopter for service entry in the 2035-2040 period. Its core grouping is comprised of five EU members, plus the UK; Canada will also join shortly.
Olivier Andries, Safran chief executive, says the new agreement builds on the pair's joint venture to develop a new engine for the Future Combat Air System for France, Germany, and Spain.
His MTU counterpart Lars Wagner praises the partners' "very long history of working together".