Safran Helicopter Engines believes it can achieve regulatory approval by 2023 to allow its powerplants to be run on 100% sustainable aviation fuel (SAF) on the back of a test campaign with German rotorcraft operator ADAC Luftrettung.
Earlier this week, the pair announced the first flight of an emergency medical services helicopter using SAF in a project also involving Airbus Helicopters and fuel firm Total Energies. That saw an H145 light-twin, which is powered by two Safran Arriel 2E engines, run on a 40% biofuel blend.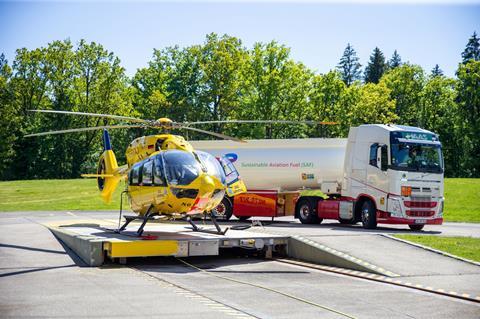 But Bruno Bellanger, executive vice-president of programmes at the French propulsion specialist, says the ambition is to increase the proportion of SAF used in the near future under a long-term agreement with ADAC.
All Safran's engines are approved for blends of up to 50% SAF. While the initial tests with the German operator will run using the current maximum "in the coming weeks and months both internally and also with ADAC we will explore up to 100%", he says.
Although the performance "has to be demonstrated", he says that the manufacturer "does not expect" that "strong modifications" of engines will be required in order to gain regulatory approval for 100% SAF operations.
Bellanger says the trials will take 100% biofuel operations to technology readiness level (TRL) 6 by 2023; if no changes are required to the engine, certification should be the same year, or 2024-2025 "at the latest" should minor alterations be needed.
Emissions of carbon dioxide (CO2) are cut by around one-third when 50% SAF is used, he says; if that blend was rolled out across ADAC's entire fleet, which flies around 50,000 missions annually, its CO2 output would be reduced by 6,000t each year. Additional benefits may also include reduced coking in the engines and lower emissions of smoke, he says.
Although SAF offers CO2 emissions that are 4-5 times less across the lifecycle of the fuel compared with fossil fuels, it is currently about 4-5 times more expensive.
But Bellanger says it is "a chicken and egg" situation and that as demand increases – through both public pressure and government intervention – prices will decline significantly.
Enabling the increased use of SAF is part of a broader decarbonisation strategy across Safran's helicopter engines business.
A new "disruptive" ultra-efficient gas turbine engine is in the early stages of development, says Bellanger, which will incorporate new materials, geometries, and 3D-printed parts. This will be ready to enter service by the end of the decade, he says, aligning with research and development activity part funded by the French state to develop a successor to the Airbus Helicopters H125 light-single.
In addition, Safran plans to conduct trials of an "electric boost" system, which will use a battery to provide additional power for a short duration, for example in the event of an engine failure. Airbus Helicopters has previously outlined plans to test a similar technology.
Meanwhile, the propulsion firm continues to mature the "EcoMode" stop-start system for the Aneto-1X engines that will power Airbus Helicopters' Racer high-speed demonstrator. This will allow one of two engines to be idled – and rapidly restarted – during cruise to cut fuel burn.
Development of the system is "progressing well", says Bellanger; ground tests of the whole system will begin in 2022, supporting flight tests on the Racer the following year.
Lastly, Safran is also pursuing a hybrid-electric distributed propulsion system, which it hopes will be flying by 2023 in collaboration with an undisclosed aircraft manufacturer.