Seoul has plans for significant upgrades to its tactical transport capabilities, with plans to buy 18 Special Operations Heavy Helicopters (SOHHs), and three fixed-wing transports under its Large Transport Aircraft II (LTA II) requirement.
South Korea's Defense Acquisition Program Administration announced the SOHH requirement in April, stating that 18 large helicopters will be needed to infiltrate army special forces and improve the air force's search and rescue capabilities.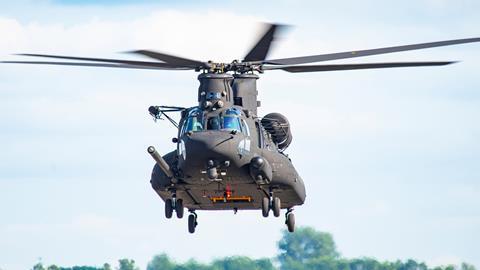 The SOHH programme is distinct from DAPA's announcement in March that it will obtain Boeing CH-47Fs to replace elderly CH-47Ds.
FlightGlobal understands that a request for proposals for SOHH has yet to be issued, and that DAPA is conducting studies around the requirement. Though there are no details as to what, exactly, DAPA will require, two helicopters have emerged as early contenders: the CH-47F Chinook and the Sikorsky CH-53K King Stallion.
Randy Rotte, who heads Asia-Pacific defence sales for Boeing, observes that a variant of the Chinook is used by the US Army's elite 160th Special Operations Aviation Regiment.
Moreover, obtaining the Chinook for the special missions role will offer commonality with South Korea's future fleet of CH-47Fs, he says. While a CH-47 tasked with special forces operations has unique features such as an air-to-air refuelling probe, larger fuel tanks, and enhanced electronic warfare capabilities, it is effectively identical to a baseline CH-47.
"On sustainment, the tooling and tests kits and all that are almost the same," says Rotte. "The facilities are the same. There is a lot of commonality there."
Thomas Boland, international business development senior manager at Lockheed Martin, the parent company of Sikorsky, contends that the King Stallion offers greater power and speed than the Chinook.
"For special operations you need speed, you need range, the ability carry things or people, and be safe," says Boland. "The CH-53K is a brand new design that does all of those things."
He acknowledges that South Korea has decades of experience with the CH-47 family, and says that the CH-53K is well positioned to complement the nation's existing fleet of Chinooks.
Separately, FlightGlobal understands that South Korea is poised to order a trio of tactical transports for the Republic of Korea Air Force (ROKAF) under the LTA II requirement. The contenders are the Lockheed C-130J and Embraer C-390.
The original LTA I requirement saw South Korea obtain four C-130Js, and the country is a long-time operator of the C-130H.
Tony Frese, vice-president, business development Air Mobility & Maritime Missions at Lockheed, says that the C-130 is a proven airlifter, and that the C-130J offers extensive advances over legacy C-130 platforms, such as its glass cockpit and improved sustainment. He adds that the type's four turboprop engines improve survivability if an engine is lost in a tactical situation.
Embraer, for its part, contends that the jet-powered C-390 offers payload, range, and speed advantages. The type can also serve in multiple missions.
"The C-390 is the most modern military tactical transport aircraft," says Embraer. "If chosen, the C-390 will enhance ROKAF's ability to deploy with greater efficiency, serviceability and speed. We have a robust value proposition for South Korea that involves the Korean aerospace industry. We look forward to growing our relations with the South Korean armed forces and aerospace and defence industries."
Cirium fleets data indicates that Seoul operates eight C-130Hs, four C-130Js, and four MC-130Ks.