South Korea plans to develop a new attack helicopter for its marines, and also obtain four new tactical transports.
A high level defence committee announced the decisions after a meeting on 26 April, says the Defense Acquisition Program Administration (DAPA).
The programme to develop and field an indigenous attack helicopter for the marines will cost roughly W1.6 trillion ($1.4 billion). The programme will run from this year until 2031.
South Korea's marines have been in the market for 24 attack helicopters capable of operating from the navy's pair of Dokdo-class amphibious assault ships.
According to South Korea's Yonhap news agency, the new attack helicopter will be based on the Korea Aerospace Industries (KAI) KUH-1 Surion utility helicopter. The type already has a marine variant, the MUH-1 Marineon.
KAI promoted the armed Surion concept at 2019's Seoul ADEX show. Its stand featured a civilian Surion with a mock-up of a weapons mount. Vertical arms mounted on the upper fuselage behind the rotorcraft's sliding door were depicted carrying weapons such as four Lockheed Martin AGM-114 Hellfire air-to-surface missiles on each side, rocket pods, and gun pods.
Another model on the company's stand depicted a more heavily-armed version. The nose featured an electro-optical/infrared sensor and a 20mm rotary cannon in a chin mount. Stub wings mounted forward of the door carried anti-tank missiles, pods for 2.75-inch rockets, and infrared-homing air-to-air missiles.
Official news agency Yonhap, citing sources, says that the marines would have preferred a foreign attack helicopter, such as the Bell AH-1Z Zulu or Boeing AH-64 Apache. DAPA recently announced that 36 AH-64Es would be obtained for the Korean army from 2022-2028, following a previous order for 36 examples.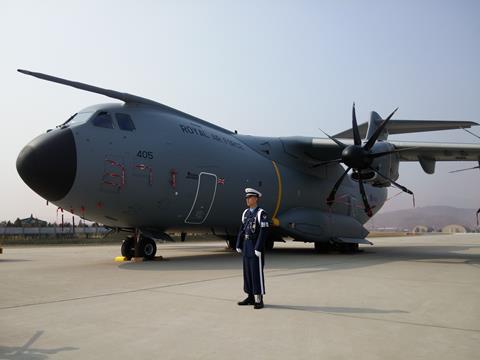 In addition, Seoul will also obtain four "large-sized transport aircraft by purchasing overseas". It will budget W480 billion for this requirement, and the winning bidder must form a local consortium to support Korean jobs and industry. This programme will run from 2022 to 2026.
Potential contenders could be the Lockheed Martin C-130J, Embraer KC-390, and the Airbus Defence & Space A400M.
Cirium fleets data shows that the Republic of Korea Air Force operates 12 C-130H aircraft with an average age of 32.9 years.
The service is also familiar with Airbus, operating four A330 multi-role tanker transports. In addition, it has eight CN235s, license produced by Indonesian Aerospace.