Sikorsky and GE Aerospace have teamed up to develop a new hybrid-electric demonstrator – dubbed HEX – which could be flying as early as 2026.
Disclosed at the Heli-Expo show in Atlanta on 7 March, the development will see the US propulsion specialist supply a CT7 turboshaft engine, 1MW generator and associated power electronics for the project.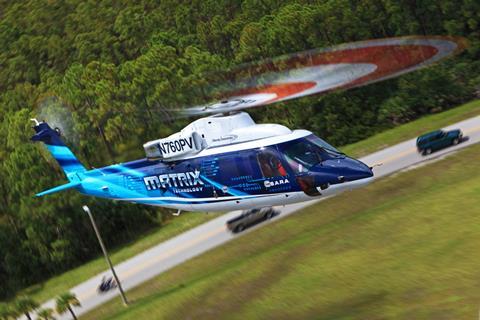 Paul Lemmo, Sikorsky president, says the 7,000-8,000lb (3,200-3,600kg) maximum gross weight vehicle will be equipped with the company's Matrix technology enabling it to fly autonomously.
He sees applications for the technology in both the civil and military markets and has begun briefing customers on the development.
Igor Cherepinsky, director of Sikorsky innovations, declines to disclose the architecture of the demonstrator but says it is "not a conventional rotorcraft".
Cherepinsky says the hybrid-electric powertrain would in future likely be applied to heavier helicopters in Sikorsky's traditional "sweet-spot" but says that "we didn't want to start there".
A hybrid-electric system would enable optimisation of the powertrain for different flight phases, he adds.
Included within the system will be a battery pack, potentially offering a source of emergency power for a larger single-engined platform in future.
Sikorsky provides the transmission for its conventional helicopters and Cherepinsky "foresees a similar value chain in future" but expanded to also include electric motors.
Additionally, it will be single-pilot capable, he says, rather than fully autonomous. "It will have a cockpit [but] it is an open question if it has one or two seats up front."
GE was previously selected by NASA to develop a 1MW-class system for its Electrified Powertrain Flight Demonstration programme on a modified Saab 340B turboprop.

Dominic Perry is deputy editor of Flight International but also contributes extensively to flightglobal.com. Although specialising in the coverage of the helicopter industry, he has written on most topics in aerospace – be they commercial, defence or business aviation. In addition, there has been an increasing focus on the decarbonisation of the industry and zero-emission flight initiatives.
View full Profile