Sikorsky has secured US Federal Aviation Administration (FAA) civil certification for its newly designated S-70M Black Hawk, opening the door to wider commercial sales of the previously military-only helicopter.
To be built in Poland by its PZL Mielec subsidiary, the S-70M is covered by a FAA restricted category airworthiness certificate that limits its operations to three core missions: agricultural operations; external cargo carriage; and forest and wildlife conservation, which includes aerial firefighting missions.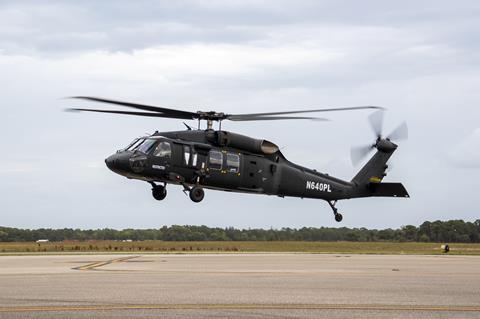 While non-military parapublic users such as the California Department of Forestry and Fire Protection already operate the S-70i Firehawk, this is enabled through the FAA's public use rules, which do not apply to commercial operators.
"With type certification, new production S-70M Black Hawk helicopters in the latest configuration are available to the US commercial/civil market for the first time," says Jason Lambert, vice-president of Sikorsky Global Commercial & Military Systems.
"Internationally, where the FAA restricted category is not widely accepted, we can now discuss with other civil aviation authorities the potential of validating the aircraft for challenging civil operations in their countries' airspace."
California public utility San Diego Gas & Electric took delivery of the first civil S-70M on 18 November at the Sikorsky Training Academy in Stuart, Florida. The helicopter will be modified to the Firehawk configuration and will enter service in 2023.
Sikorsky initially received an FAA type certificate for the S-70M in February 2019, based on the US Army's UH-60M, and produced the first-of-type aircraft a year later. During 2020 and 2021, Sikorsky proved the aircraft conformed to the type design, and assisted the FAA in establishing the new type rating.
The FAA lists the S-70M's maximum take-off weight as 9,980kg (22,000lb), or 10,700kg with an external load. Power comes from twin GE Aviation T700D engines.
FlightSafety International developed the training curriculum for the new type and also upgraded an S-70i simulator to the new standard. Work is under way with the FAA to gain Part 142 approval for its training course, FlightSafety says.
Sikorsky in 1988 obtained FAA approval for the S-70A – a commercial derivative of the UH-60A.