Sikorsky has effectively pulled the plug on its S-76D helicopter programme blaming the move on underwhelming sales and the medium-twin's high production costs.
Disclosing the decision at the Heli-Expo show in Dallas on 8 March, Jason Lambert, vice-president of global commercial and military systems, said the airframer had stopped taking new orders for the type.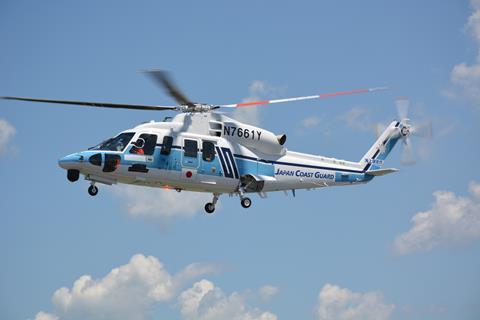 However, Sikorsky is talking to other manufacturers globally regarding the potential for licensed production of the S-76D outside of the USA.
Lambert says that while the S-76D has been a "phenomenal performer" in the VIP segment, overall it "has not been as strong as some of our competitors".
On top of which, Lambert cites high production and supply chain costs which made the S-76D a "hard product for us to build and deliver profitably."
In addition, a US Federal Aviation Administration ruling introduced in April 2020 required the introduction of crash-worthy fuel system which further dampened the prospects for the type.
"With the demand we had we did not have the business case to justify the investment," he says.
Three aircraft remain in assembly at the manufacturer's Owego site in New York, but once they are delivered the programme will be in hibernation.
Sikorsky's move brings to an end a production run for the S-76 which stretches back to 1979. While previous variants have sold well, particularly the C+ and C++, the D model has not lived up to expectations: of the 874 S-76s delivered, just 77, or 8%, are Ds, according to Cirium data.
Launched in 2005, development delays pushed service entry of the S-76D back by four years to 2012. But not only was the programme late, its performance has not matched that of its rivals, in particular the Leonardo Helicopters AW139.
But Sikorsky sees potential for the S-76D to return. Citing "global customer demand for the platform", Lambert says talks are under way with "international partners about licensing opportunities", noting the manufacturer's previous success with such a model for "legacy fleets".
"We are actively pursuing arrangements with international parties where we would licence the IP and can provide technical assistance and support for [them] to do the production and manufacturing," he says.
In the meantime, Sikorsky will continue to support the in-service fleet, stresses Lambert.