Helicopter manufacturer Sikorsky is moving toward an annual production rate of 24 CH-53K King Stallions under its heavy-lift programme for the US Marine Corps (USMC).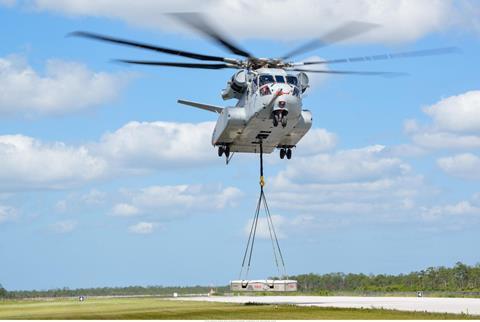 The company on 30 January received a $34 million contract modification from the US Navy (USN) – which administratively oversees the USMC – to support additional production capacity on the CH-53K line. The contract announcement says funds will support "achieving a production quantity at full rate of up to 24 CH-53K aircraft per year".
The Department of Defense expects the company to achieve that annual production rate by the end of 2024.
A separate deal, worth $7.5 million to Sikorsky, will support production of CH-53Ks from Lots 4 and 5. The Lockheed Martin subsidiary produces King Stallions at its plant in Stratford, Connecticut.
CH-53Ks are meant to replace the USMC's current heavy-lift platform, the CH-53E Super Stallion. The service declared initial operating capability on the new type in April 2022.
The USMC has a CH-53K acquisition objective of 200 aircraft, which Sikorsky says has been approved by defence officials. Cirium data shows that the service currently operates 140 Super Stallions.
According to Sikorsky, the King Stallion represents a significant improvement over its predecessor, boasting 57% more horsepower and 63% fewer parts. The Super Stallion was first fielded in 1988.
Basic requirements for the CH-53K were developed with a Pacific-island campaign in mind, according to the USMC. The service wanted an aircraft capable of launching from a ship, lifting an external load of approximately 12,000kg (27,000lb) and transporting that load at least 110nm (204km) ashore before returning to the assault ship.
Such load capacity exceeds even that of the US Army's fleet of twin-rotor Boeing CH-47 Chinook heavy lifters. The latest variant of the type, the CH-47F, has a useful load of 10,886kg, according to Boeing.
The King Stallion uses three GE Aerospace T408 turboshafts, each rated at 7,500shp (5,520kW), to achieve that capability.
The CH-53K's heavy lift status was put to the test in 2021, when one was used to evacuate a crashed USN Sikorsky MH-60S Knighthawk from high in the mountains of California. Navy officials determined no aircraft from the USN, USMC or US Army had sufficient lift to remove the 6,895kg load at an elevation of 3,658m (12,000ft).
In addition to the USMC deal, Sikorsky is under contract to deliver 12 CH-53Ks to the Israeli air force.