Anyone hoping for a high-speed civil helicopter featuring Sikorsky's X2 co-axial compound technology looks set to be disappointed after the manufacturer explicitly ruled out such a development.
Sikorsky first flew its contra-rotating main rotor and tail-mounted pusher prop-equipped X2 technology demonstrator in 2008, eventually achieving a speed of 253kt (468km/h) in 2011.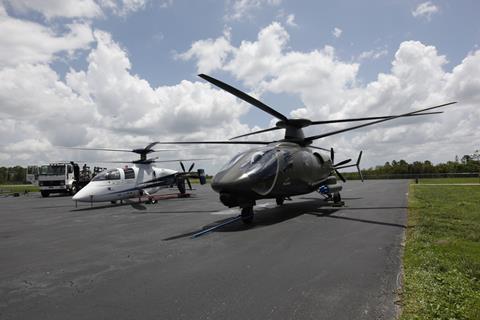 Since then the airframer has refined the architecture, which it is using on a pair of military rotorcraft – the Defiant X and Raider X – being offered to the US Army as parts of the service's Future Vertical Lift (FVL) initiative.
There had been an expectation that should Sikorsky win either of the Future Long-Range Assault Aircraft (FLRAA) or Future Attack Reconnaissance Aircraft (FARA) contests then it would leverage the volumes involved to spin out a commercial derivative.
However, Sikorsky has explicitly ruled out a civil programme incorporating the X2 configuration. "We initially thought we would have to apply that to everything," said Jason Lambert, vice-president of global military and commercial systems, speaking at the recent Heli-Expo conference.
"But the benefit of what that brings in terms of agility is not so important in the commercial space. Speed is nice but from an overall efficiency perspective we don't think it's the right thing for commercial."
Lambert says the future for the commercial portfolio is likely to see the application of hybrid-electric propulsion and increased levels of autonomy: "We are modelling it now."
An aircraft of a similar size to the 13-passenger S-76 helicopter using a tiltwing, rather than tiltrotor architecture is being consider, he says: "It's conceptual, but we are evaluating it."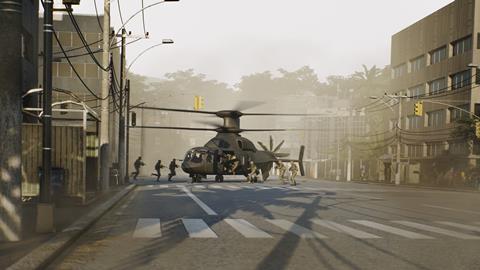 But in contrast to Sikorsky, FVL rival Bell is more open to a commercial application of the rotorcraft it is developing for the FLRAA and FARA requirements.
Bell is offering the V-280 Valor for FLRAA and Michael Thacker, the airframer's executive vice-president of innovation and commercial business, says if the tiltrotor is selected it would "consider commercial variants".
"But is there a clear business case for that today? Probably not. But we are certainly open to the idea – we have certainly seen interest in that concept from a commercial perspective," said Thacker at Heli-Expo.
Thacker stresses, however, that until the V-280 is picked by the US military "it is too soon to really contemplate what that [civil helicopter] would be".
Meanwhile, Bell's FARA offer is the 360 Invictus – a more conventional helicopter that can still cruise at 180kt. Thacker suggests that technologies matured through that programme might offer a simpler route to the civil market.
Transferring some the "learnings" or systems developed from the Invictus into a commercial product "is nearer to shore than the commercial application of a V-280", he says.
The sixth paragraph of this story has been edited to clarify a quote, removing the inserted word "fuel".