Sikorsky could build Black Hawk helicopters in the UK, including those for the export market, should it be successful in an ongoing contest to replace the Royal Air Force's fleet of Puma HC2 transports.
Speaking to reporters at the Paris air show this morning, Paul Lemmo, president of the US rotorcraft manufacturer, said it was preparing "a very robust industrial package" as part of its offer for the UK's New Medium Helicopter (NMH) contest.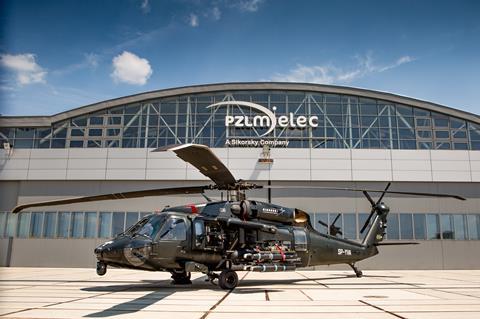 Sikorsky had previously appeared to be leaning towards offering S-70Ms built by its Polish subsidiary PZL Mielec, with UK industrial needs addressed through local completion and installation of mission equipment.
But Lemmo says it has "a lot of options… including doing final assembly in the UK" in collaboration with "the most capable partners".
Sikorsky has "had some discussions with partners that might be willing" to perform final assembly in the UK, but does not disclose their identities.
Airbus Helicopters and Leonardo Helicopters, Sikorsky's rivals for the NMH tender, have promised to build their respective H175M and AW149 in the UK if they are successful, including those for export customers.
Sikorsky's existing European production base in Mielec appeared to preclude such an outcome, but Lemmo now says exports from a UK factory are "certainly possible".
"It depends on the variant the UK buys. If they buy a variant that is heavily required by other countries, why wouldn't we do that?
"[But] if they buy a variant that looks like every other Black Hawk? Yeah, maybe not."
Lemmo stresses, however, that the company has not finalised its approach to the NMH competition and will make a decision "once we have seen the tender".
Having revealed its shortlist of bidders in October 2022, the UK Ministry of Defence (MoD) was expected to have released the detail of its requirements by the middle of this year. However, this now appears to have slipped to September at the earliest.
Under the £1.2 billion ($1.5 billion) NMH competition, the MoD is looking to acquire up to 44 helicopters for service entry in 2025.

Dominic Perry is deputy editor of Flight International but also contributes extensively to flightglobal.com. Although specialising in the coverage of the helicopter industry, he has written on most topics in aerospace – be they commercial, defence or business aviation. In addition, there has been an increasing focus on the decarbonisation of the industry and zero-emission flight initiatives.
View full Profile