Sikorsky hopes to have found a new permanent home for the S-92 heavy-twin before demand from the offshore oil and gas market for new helicopters returns, a milestone the airframer anticipates in 2025.
Last year, the US manufacturer announced the closure of its factory in Coatesville, Pennsylvania on cost and capacity grounds, leaving the S-92 without a final assembly location. The plant will shut at the end of March.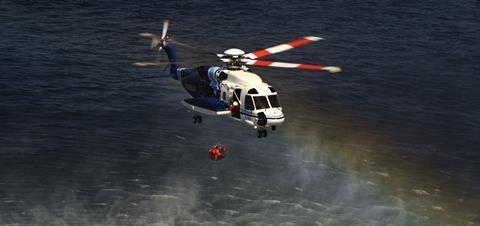 But a wider crisis in the oil and gas industry has led to excess capacity and in-service assets being mothballed, killing any requirement for new helicopters – just one S-92, configured for VIP transport, was shipped in 2021 – giving the manufacturer a short grace period in which to set up a new production line.
Jason Lambert, vice-president of global commercial and military systems at Sikorsky, says demand for new S-92s looks set to return as idled aircraft are brought back into service.
Based on its analysis of utilisation data and through conversations with customers on their fleet plans, Sikorsky expects "equilibrium" – the point at which all the parked helicopters have been return to operation – to be reached "in early 2025".
"We are watching the signals in order to have a [production] strategy ready to launch but that is somewhat contingent on the market and when the consumption of those [parked] units takes place," he says. Additional orders may also come for VIP/head of state and search and rescue examples, he suggests.
Paul Lemmo, Sikorsky president, says the company is continuing to analyse potential sites for the production line. "As we look at where we going to produce the S-92 we have a lot of options in front of us in various locations."
Sikorsky builds military helicopters in Stratford, Connecticut and has a development and test facility in West Palm Beach, Florida, but both sites are likely to be short on capacity. However, one option for S-92 production could be the company's Polish subsidiary PZL Mielec.
In 2019, Sikorsky launched the A+ upgrade for the S-92, centred around a new main gearbox with an extended run-dry capability. However, Lambert says it has "not seen the demand signal we had hoped for" regarding that modification. To date, only Cougar Helicopters has emerged as a customer for the S-92A+, which is available as both line- and retrofit options.
Certification for the new gearbox is expected in 2025, with availability from 2026 for new customers. Previous plans called for service entry in 2023.
Meanwhile, the manufacturer continues to analyse the potential for a future B-model variant, having initiated discussions with its operator base.
"We are still evaluating that and we are working with our customers to evaluate what are the next features and functions they want on that next aircraft," says Lambert.