South Korea has approved the acquisition of Boeing CH-47F Chinook transport helicopters to replace its aging fleet of CH-47Ds.
Seoul's Defense Program Production Committee approved the deal on 28 March, earmarking W1.49 trillion ($1.15 billion) for the acquisition, which will run out to 2028, says South Korea's Defense Acquisition Program Administration (DAPA).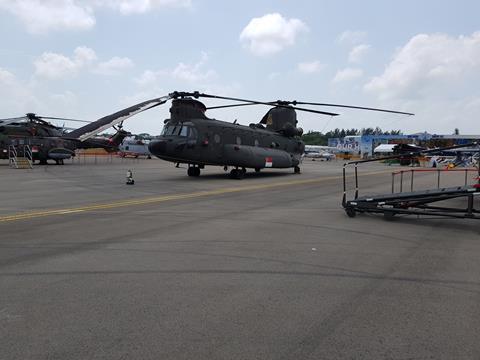 "This project is expected to ensure safe mission performance by the timely replacement of outdated [large helicopters], and great improve large-scale transportation capacity and national disaster response capability," says DAPA.
DAPA does not list the number of helicopters to be obtained. In December 2022, the US government's Defense Security Cooperation Agency (DSCA) issued a notice that the US government had a approved a possible purchase of 18 CH-47Fs, including 42 Honeywell T55 engines and a range of other systems.
In its December 2022 statement, the DSCA had this to say about the deal: "The proposed sale will improve [South Korea's] capability to meet current and future threats by strengthening its army heavy lift capability. The CH-47F will allow [South Korea] to conduct missions in support of bilateral operational plans which include, but are not limited to, medical evacuation, search and rescue, parachute drops, and disaster relief."
In the 2010s South Korea explored the idea of upgrading its existing Chinooks, but eventually decided to obtain new helicopters.
Cirium fleets data indicates that South Korea's army operates 34 CH-47Ds, with an average age of 38.4 years.