South Korea has invited bids for a new heavy-lift helicopter to replace its ageing Boeing CH-47D Chinooks.
South Korea's Defense Acquisition Program Administration (DAPA) recently posted details of the bidding procedure for the Heavy Utility Helicopter II (HUH-II) competition, valuing the deal at $1.1 billion.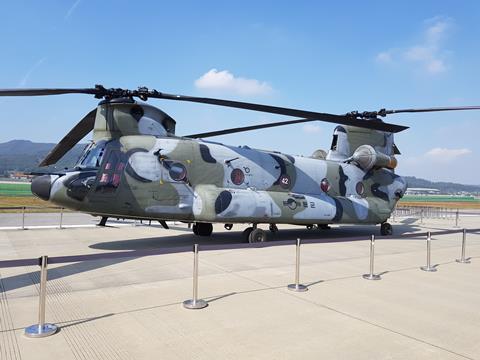 DAPA has previously said that a competition to replace the nation's 34 CH-47Ds would run from 2022-2028.
Seoul had considered upgrading the army's CH-47D fleet, which have an average age of over 37 years, but decided it is cheaper to replace them.
Given that the competition is in its very early stages, helicopter manufacturers struck a cautious tone when contacted by FlightGlobal.
Lockheed Martin sees potential for the CH-53K produced by unit Sikorsky.
"When the [Defense Acquisition Program Executive Committee] formally converted the HUH-II programme from an upgrade programme to a competition for a replacement programme in 2021, we were excited for this development because the [Republic of Korea] Army would now be able to expand its mission set with access to the latest generation capabilities, which for true heavy-lift operations, are only available with the CH-53K," says Lockheed.
"We look forward to continuing conversations with the Korean Army regarding its interest in pursuing a new heavy-lift helicopter programme, and we are confident that the CH-53K King Stallion is a highly capable and timely solution which will significantly improve the vertical lift capabilities of today."
Boeing is also aware of the South Korean competition.
"Boeing is prepared to provide South Korea an industry-leading solution; as a potential Foreign Military Sale, however, we defer to DAPA or the US government for any additional comment," says the US manufacturer.
Boeing's prime offering for HUH-II would presumably be the CH-47F, but production of the Block I standard for the US Army runs out in December. The US Army has also not fully committed to the Block II upgrade for the type: Boeing has recieved funding for just four examples for delivery in 2023. A lack of additional orders for more Block II Chinooks could pressure the type's production line.
Separately, Boeing has announced a US Army order for six additional MH-47G Block II Chinook helicopters, bringing US army orders for the type to 36 examples.
Deliveries of the rotorcraft will commence in 2024, with the value of the deal placed at $195 million. So far five examples have been delivered.
The rotorcraft will serve with the US Army Special Operations Aviation Command.