South Korea will conduct an upgrade programme for Sikorsky UH/HH-60 helicopters used for special operations by the country's air force and army.
The work will run from 2023-2030, with a total project cost of W960 billion ($753 million), according to a Defense Acquisition Program Administration (DAPA) notice.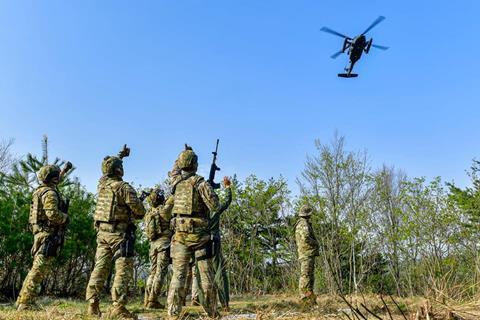 DAPA does not identify the specific systems that will be upgraded, nor the number of rotorcraft that will undergo upgrade work.
The statement stresses, however, that the work will involve domestic research and development, with a focus on creating jobs locally.
Cirium fleets data indicates that South Korea is a major operator of S-70-family helicopters, with 129 examples in service. Of these, the army operates 104 and the air force 25. The average age of the fleet is 27.7 years.
Of the army's fleet, 101 are UH-60Ps and three are UH-60Ls. The primary mission of the army fleet is utility transport.
The air force operates 17 HH-60Ps in the combat search and rescue role, while eight UH-60Ps serve as VIP transports.