Lockheed Martin has selected StandardAero to assemble Sikorsky S-70M Black Hawk helicopters in Gosport on the south coast of England if it emerges as the winner of UK's New Medium Helicopter (NMH) competition.
Revealing the industrial plan supporting its NMH bid at the DSEI trade show on 12 September, Paul Livingston, chief executive of Lockheed Martin UK, said its offer would create 660 new "high-tech" jobs across the country.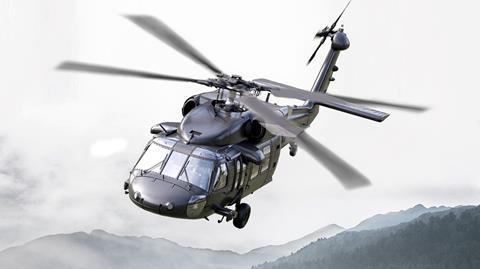 Additional opportunities will also be created for the supply chain "as we source from the eco-system of UK suppliers", he says.
Companies such as Martin-Baker and Chelton are already providing parts to the global Black Hawk programme, but other businesses including Inzpire, Nova Systems and C3IA will be brought in to address the UK specific requirements for the platform.
"These suppliers will help with the sustainment of not only the UK's backlog but will become qualified to gain access to the global Black Hawk programme of over 5,000 platforms and potentially open a 45-year pipeline for future jobs and business for UK companies," says Livingston.
In total, "over 40% of the programme by value" will be delivered from the UK. Asked if that would make the Black Hawk the 'most British' of the three NMH contenders, he gives an unequivocal "yes".
Lockheed could also assemble helicopters for the export market in the UK, bolstering its existing European production line at Polish subsidiary PZL Mielec, which has capacity for 24-36 aircraft annually.
Should partner nations want a Black Hawk with a configuration similar or identical to those acquired by the UK for NMH "we would absolutely look at the best place to deliver those from," he adds.
PZL Mielec would also remain a supplier to NMH, delivering parts – likely including fully built centre fuselages – to Standard Aero for final assembly.
Livingston says there will also be "UK-specific components" in the overall airframe and will look to increase the total quantity.
"This isn't the end of our story, this where we are setting out our stance for today. By the time we get to the [bid] submittal we'll continue to mature and develop that approach," he says.
But it was not immediately clear whether a UK-built Black Hawk would be more expensive than one completed in Poland.
Livingston says he has not analysed any potential cost differential between the two sites, adding: "We see that as a collaborative relationship one rather than a competitive one."
StandardAero has yet to fully assess how much it will cost to stand up the new production line at its existing Gosport site – which will also host maintenance activities for the type and its GE Aerospace T700 engines – but it will require joint investment by itself and Lockheed, says Andrew Ferguson, senior director, sales and business development for the EMEA region.
A design capability will reside in the UK, Ferguson says, enabling modifications to the NMH fleet, and potentially making a contribution to any next-generation rotorcraft programme.
Selection of the Black Hawk for the NMH requirement could also give the UK and its aerospace industry access to Sikorsky's next-generation rotorcraft technologies, Livingston suggests.
The UK is seeking up to 44 helicopters through NMH to replace four platforms in its inventory, including the Royal Air Force's Puma HC2 transports.
Other contenders for the requirement are the Airbus Helicopters H175M and Leonardo Helicopters AW149, both of which would be built in the UK. Bidders expect the tender for the NMH acquisition to be released later this autumn.

Dominic Perry is deputy editor of Flight International but also contributes extensively to flightglobal.com. Although specialising in the coverage of the helicopter industry, he has written on most topics in aerospace – be they commercial, defence or business aviation. In addition, there has been an increasing focus on the decarbonisation of the industry and zero-emission flight initiatives.
View full Profile