Airbus Helicopters is confident that it can increase its share of the civil helicopter market in 2020, despite an overall sector contraction of around 40-50%.
Bruno Even, chief executive of the French-headquartered manufacturer, says that although sales of its light helicopters have suffered, the "strong momentum" for its H145 light-twin and the new H160 medium-twin have enabled it to "resist well".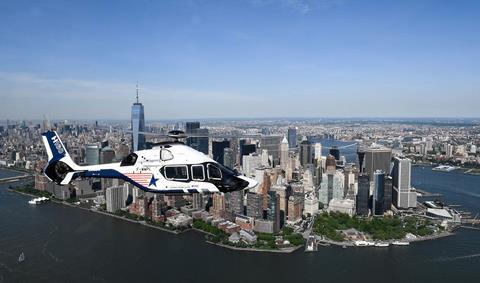 While overall orders have slipped – down to 143 at the end of September, from 173 in the same period last year – Even says that "our competition is more affected than us" enabling Airbus Helicopters to increase its market share.
Although customers are delaying placing new orders in the light of the coronavirus pandemic, the manufacturer has yet to see any cancellations, he says.
The H145 continues to be a "best-seller" says Even, with its appeal further enhanced thanks to the arrival of the new D3 variant with its five-bladed main rotor.
European regulators approved the upgrade in June and the manufacturer handed over the first example in September. US certification should follow in the "coming months", says Even.
The European Union Aviation Safety Agency (EASA) also validated the H160 in July, but first delivery to its US launch operator will have to wait until US approval is secured next year.
That milestone would normally have been anticipated around six months after EASA certification, but travel restrictions on the back of the pandemic have pushed it back slightly, says Even.
Orders this year for the H160 should be in the 15-20-unit range, he says, giving a firm backlog of about 40 helicopters.
However, with an order expected in 2021 from the French military for up to 169 H160Ms, plus a likely 10-unit commitment from the Gendarmerie Nationale, and interest from the Spanish Guardia Civil, Even believes annual output can be increased over the next three to four years to 40-50 helicopters.
Article edited to correct a figure in the penultimate paragraph