Boeing has secured a US government contract to provide the Thai army with eight AH-6 light attack helicopters.
The Foreign Military Sales deal is valued at $103.7 million, and will make Thailand the second international customer for the AH-6, says Boeing.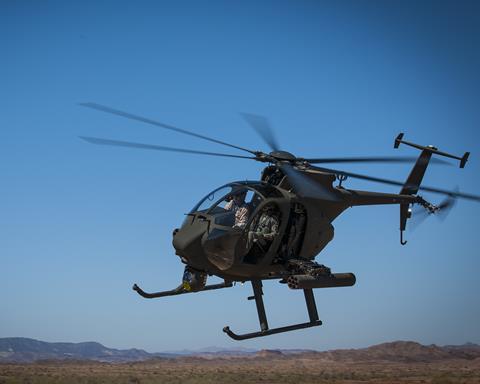 Boeing will produce the rotorcraft in Mesa, Arizona, with deliveries running through 2024.
The type will replace Thailand's aging fleet of Bell AH-1F Cobras. Cirium fleets data shows that the average of Thailand's seven Cobras is 40.2 years.
"We welcome Thailand's selection of Boeing's AH-6 light attack reconnaissance helicopter and look forward to working with the US and Thai governments as part of the foreign military sale process," says Jessie Farrington, business development director of Attack Helicopter Programs.
"From its unmatched power-to-weight ratio to its extensive, integrated digital communications suite, the AH-6 offers superior performance, capability and versatility and will be a force-multiplier for the Royal Thai Army."
Boeing adds that the AH-6 benefits from upgrade work on the AH-64 Apache, namely a mission computer "capable of processing large amounts of data and sharing system information with the rest of the aircraft quickly — enhancing safety and situational awareness, enabling faster decision making, reducing pilot workload and decreasing support costs throughout the aircraft's life cycle."
The AH-6 is a heavily modified derivative of the MD Helicopters MD500, with a sixth main rotor blade and a four-blade canted tail rotor. Boeing representatives have said that this offers superior control characteristics, particularly in hot and high conditions.
The AH-6 was previously ordered by the Saudi Arabian National Guard, with operates 23 examples.