Three US Army soldiers are dead, following the collision of two Boeing AH-64E Apache attack helicopters in Alaska.
The incident occurred during a training flight on 27 April near Healy, Alaska, some 400km (250 miles) north of Anchorage.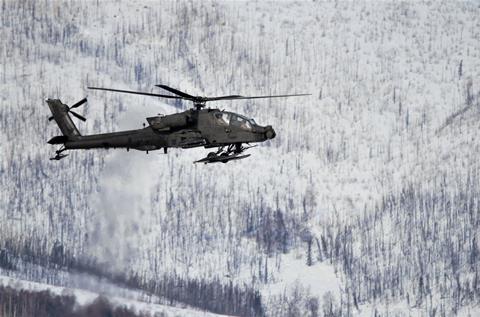 Two aviators died in the collision, while a third died while being evacuated to hospital. A fourth individual was injured in the crash. Each Apache carriers a crew of two: a pilot in the rear seat of the tandem cockpit and a gunner in the forward seat.
"This is an incredible loss for these soldiers' families, their fellow soldiers, and for the division," says Major General Brian Eifler, commander of the army's 11th Airborne Division, based in Anchorage.
The division says the rotorcraft were returning from a training flight when the collision occurred.
The incident is the second fatal crash involving army helicopters in as many months. In March, two Sikorsky UH-60 Black Hawks assigned to the storied 101st Airborne Division collided during a night training flight near the unit's base in Kentucky.
Nine soldiers died in that event.
The recent Apache collision is also the second serious safety incident this year involving army AH-64s in Alaska. In February, two soldiers were injured when an Apache rolled over and crashed after a refuelling stop at the remote Talkeetna airport.
The army says the 27 April incident will be investigated by a team from the Army Combat Readiness Center, based at Fort Novosel, Alabama.