UK defence officials have finally kicked off the procurement phase for the New Medium Helicopter (NMH) programme – an effort that could see as many as 44 rotorcraft acquired as part of a total package worth up to £1.2 billion ($1.48 billion).
A tender notice issued on 18 May by the Ministry of Defence (MoD) effectively begins the next stage of an acquisition process that has been winding up since the announcement in March 2021 that the Royal Air Force's fleet of 23 Puma HC2s, plus three other rotorcraft types, will be replaced from mid-decade by a single platform.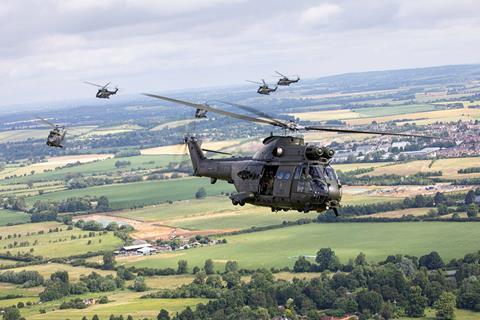 Potential bidders now have until 20 June to show their interest by completing a dynamic pre-qualification questionnaire (DPQQ). Invitations to tender will then be sent out by 30 September.
Up to 44 new helicopters are being sought under NMH, the notice says, alongside integration of mission equipment, and training and maintenance packages.
Total budget for the procurement is £900 million to £1.2 billion, a rise on the figure of £1 billion outlined last year.
Rationalising the fleet simplification, the MoD says it aims to maximise "commonality in order to improve efficiency and operational flexibility.
"NMH will provide a common medium lift multi-role helicopter, fitted for, but not with, specialist mission role equipment and able to operate in all environments in support of defence tasks."
Alongside the Pumas, the MoD is looking to replace the smaller fleets of Bell 212s and 412s, and Airbus Helicopters Dauphins.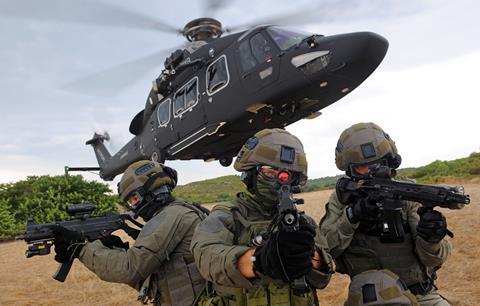 The contract is expected to run for seven years "but will be determined by the agreed production schedule that will reflect the supplier's ability to complete delivery of aircraft and an initial support phase", the latter lasting for five years.
No date for the first delivery has been outlined, but 2025 has previously been suggested.
A maximum of five companies are likely to participate in the process, notes the tender notice.
Airbus Helicopters intends to offer the H175M and Leonardo Helicopters the AW149, with both to be assembled in the UK. Sikorsky says it will pitch the Polish-built S-70M Black Hawk, with a degree of domestic customisation, while Teesside-based AceHawk Aerospace is offering the ML-70, an upgraded pre-owned UH-60M Black Hawk. Other possible contenders could include Bell or Boeing.