Confusion surrounds the number of aircraft the UK plans to buy under its New Medium Helicopter (NMH) programme, after the Ministry of Defence (MoD) denied it had slashed the quantity under consideration.
The issue emerged over the weekend after a story from Breaking Defense quoted Lenny Brown, the head of Airbus Helicopters UK, as having said that the MoD had cut the size of the acquisition to 25-35 aircraft. That figure is accurate, a source with knowledge of the matter confirms to FlightGlobal.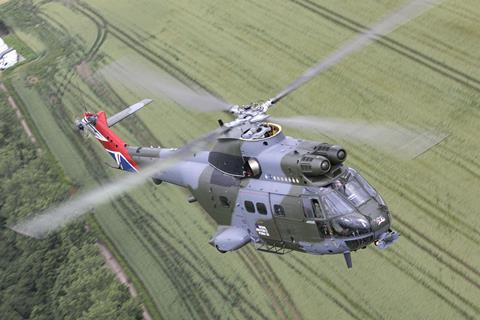 But the MoD denies it has scaled back its plans: "There has been no change to the advertised requirement in the New Medium Helicopter contract notice that was published in May 2022," it states.
That tender document called for the acquisition of "up to 44 New Medium Helicopters" with a total budget of up to £1.2 billion ($1.5 billion).
Given the absence of a specified range, the MoD could argue, however tenuously, that 25-35 rotorcraft still falls within the definition of "up to 44" units.
However, ahead of a market interest day held in late 2021, the ministry's draft scope for the procurement said it was seeking "between 36 and 44 aircraft".
Three companies remain in contention for the NMH requirement following their inclusion on a shortlist last October.
Airbus Helicopters is pitching its H175M, Leonardo Helicopters the AW149, and Sikorsky the S-70M Black Hawk.
However, the MoD has delayed the next stage of the procurement. An invitation to negotiate was due to have been published earlier in 2023, but it now says the "second half of the competition will be launched later this year".
The NMH is designed to replace the Royal Air Force's fleet of 23 Puma HC2 transports, as well as three other types in the UK's inventory.

Dominic Perry is deputy editor of Flight International but also contributes extensively to flightglobal.com. Although specialising in the coverage of the helicopter industry, he has written on most topics in aerospace – be they commercial, defence or business aviation. In addition, there has been an increasing focus on the decarbonisation of the industry and zero-emission flight initiatives.
View full Profile