Boeing is to supply a fourth AH-64E Apache Longbow crew trainer (LCT) to the Army Air Corps (AAC) under a new contract with the UK Ministry of Defence (MoD).
Three simulators are already in service with the AAC – one at its Wattisham Flying Station base in Suffolk and two at Middle Wallop airfield in Wiltshire; the fourth device will be located at the former.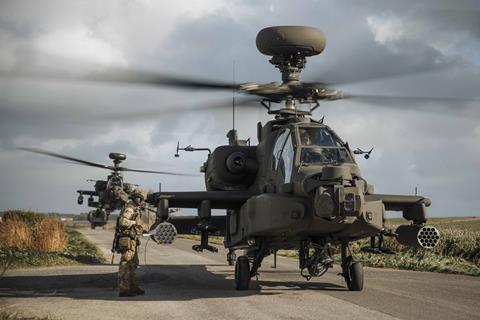 The LCTs are playing a key role in transitioning crews to the new E-model Apache variant enabling pilot conversion to type, conversion to role and refresher training.
A total of 26 AH-64Es are now in UK service, Cirium fleets data records, from a total commitment for 50 of the remanufactured helicopters.
"We are delighted to be on contract with Boeing for the provision of a fourth Longbow crew trainer to support aircrew training at Wattisham Flying Station," says Lieutenant Colonel Andy Williams, programme director for the Attack Helicopter Capability Sustainment Programme.
"Once delivered and upgraded to a common standard with our existing devices in 2025, it will expand our ability to train aircrew in the synthetic environment, enabling multi-aircraft sorties and mission rehearsals."
The fourth device will enable crews to fly paired training sorties at both UK Apache operating bases.
"As you know, the Apaches fly in pairs and the introduction of the fourth LCT will allow the customer to fly and operate as they do in the real environment," Jake Scott, head of training services, Boeing Defence UK, told journalists during a 6 June briefing.
The MoD also has also ordered a Boeing E-7 Wedgetail flight simulator to support the introduction from 2024 of the Royal Air Force's fleet of three of the airborne early warning and control aircraft.
The device will be located at RAF Lossiemouth in Scotland, which is also home to the service's nine-strong P-8 Poseidon maritime patrol aircraft fleet.
Although both the E-7 and P-8 are derived from the 737NG commercial airliner, "there are a number of significant differences in terms of cockpit layout" between the two types which merits multiple simulators, says Scott.
"Equally, a fleet standing up in its own right requires its own training capability," he adds.

Dominic Perry is deputy editor of Flight International but also contributes extensively to flightglobal.com. Although specialising in the coverage of the helicopter industry, he has written on most topics in aerospace – be they commercial, defence or business aviation. In addition, there has been an increasing focus on the decarbonisation of the industry and zero-emission flight initiatives.
View full Profile