The Royal Air Force's (RAF's) fleet of Puma HC2 helicopters looks increasingly likely to stay in service until at least 2028 after defence chiefs moved to extend a maintenance contract for up to three years, a reflection of the slow pace in procuring a successor aircraft.
Airbus Helicopters has been supporting the Puma fleet through a series of contracts since the upgraded HC2 variant was introduced in 2012.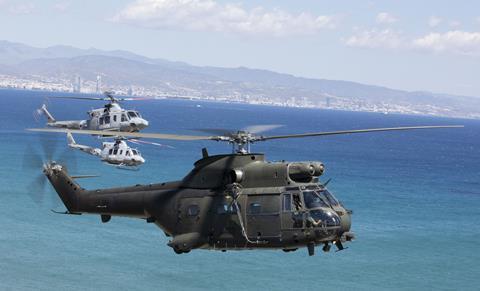 The latest agreement, in place since 2018, was scheduled to run until 2022 but was later extended until 2025 – the Puma's expected out of service date.
However, a sole-source contract solicitation dated 6 September indicates the Ministry of Defence (MoD) intends to trigger an extension to the arrangement of "up to three years" until 31 March 2028.
The MoD has begun the process of acquiring a replacement for the Puma under its New Medium Helicopter (NMH) initiative but the programme is running significantly behind schedule.
At the launch of the NMH procurement in 2022, the MoD was expecting to have contracted the winning bidder in 2023, allowing the Puma's progressive retirement from 2025. That itself was a climbdown from a previous ambition to begin phasing out the Pumas as early as 2023.
But the tender process is stalled: the most recent indication was that the Invitation to Negotiate (ITN) was due to be issued to three shortlisted bidders – Airbus Helicopters, Leonardo Helicopters and Sikorsky – in October this year; it was initially meant to be published in September 2022.
Based on the time it will take the contenders to respond to the ITN and the MoD to assess those offers, a contract is unlikely to be signed before 2025, leading to a first delivery at least 12 to 18 months later.
The MoD is seeking up to 44 helicopters under NMH with a total budget of £1.2 billion ($1.5 billion) – although the actual quantity to be acquired is likely to be in the range of 25-35 aircraft.
Besides the RAF's 23 Pumas, the NMH platform will replace several other UK fleets, including the Bell 212 and 412, and Airbus Helicopters Dauphin.
In the interim, the Pumas are already filling in for the now retired Bell types in Brunei and Cyprus.
This article has been changed to reflect that the contract has yet to be awarded but under negotiation.

Dominic Perry is deputy editor of Flight International but also contributes extensively to flightglobal.com. Although specialising in the coverage of the helicopter industry, he has written on most topics in aerospace – be they commercial, defence or business aviation. In addition, there has been an increasing focus on the decarbonisation of the industry and zero-emission flight initiatives.
View full Profile