United Rotorcraft has ordered five Sikorsky S-70 helicopters for conversion to the Firehawk firefighting configuration.
Sikorsky, a unit of Lockheed Martin, says it will produce the helicopters at its PZL Mielec factory in Poland, with deliveries to take place in the next 7-18 months.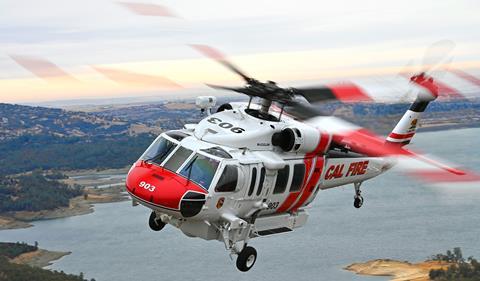 United Rotorcraft will convert the helicopters at its completions centre in Colorado, between early 2022 and mid-2023, with the first of the converted Firehawk's going to the State of Colorado. The value of the deal was not disclosed.
"The Firehawk helicopter is fast becoming one of the most powerful and effective aerial firefighting assets in California, attacking and extinguishing wildfires before they spread out of control," says United Rotorcraft president Larry Alexandre.
"Acquiring five S-70 Black Hawk aircraft from Sikorsky with deliveries over the next 7 to 18 months confirms United Rotorcraft's commitment to the FIREHAWK helicopter and its mission, and ensures their availability to support future demand from U.S. Western States or firefighting agencies around the world."
United Rotorcraft, which developed the Firehawk with Sikorsky, is the only company authorised to modify the S-70 to the configuration. The conversion work sees the installation of 1,000gal external water tank to the helicopter's belly.
Special "fingertip controls" give pilots to drop precise amounts of water. Refilling the tank requires the helicopter to hover over a water source for 60s.
Sikorsky adds that 13 S-70 Firehawks are in service in California.