Russian Helicopters is to modernise the Kamov Ka-32, adding uprated engines, a glass cockpit and a new fire-fighting system to the co-axial rotor-equipped heavy-twin.
Under the plan, the Ka-32A11M will gain Klimov VK-2500PS-02 engines, replacing the TV3-117 turboshafts of the previous iteration.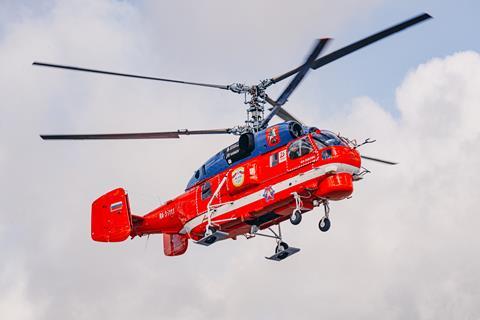 Russian Helicopters says performance in hot and high conditions will be particularly improved, increasing the payload by 1.6t.
In addition, the flightdeck will be updated with a new glass cockpit using the same technology as installed on the Kazan Ansat and Mil Mi-38 helicopters. It will also be compatible with night-vision goggles.
"The Ka-32 is recognised all over the world as one of the best helicopters for fire-fighting work. Nevertheless, even the best models need timely modernisation," says Andrey Boginsky, director general of Russian Helicopters.
Deliveries of the enhanced variant will begin in 2022, says the manufacturer. A prototype of the Ka-32A11M will be present at the MAKS air show in Moscow in July.