The US Army has signed a deal with Connecticut helicopter manufacturer Sikorsky to purchase as many as 255 UH-60 Black Hawk utility lift and medevac aircraft, the company said on 27 June.
The contract, worth $2.27 billion and officially known as "Multi-Year Contract X", represents the US Army's tenth such procurement agreement for Black Hawks and runs through 2027. It could also be the last such deal.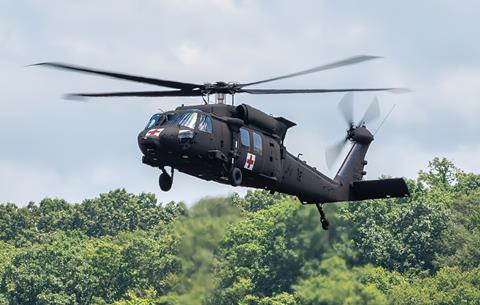 "Decades of Black Hawk production and enhancements, strong programme execution and close partnership with the army has kept the programme thriving, and this contract is a testament to that success," says Nathalie Previte, vice-president of Sikorsky's Army and Air Force programmes.
Stratford-based Sikorsky, a Lockheed Martin subsidiary since 2015, has been producing Black Hawks, the US Army's primary utility lift helicopter, since 1976, when the design won a competition to replace the Vietnam War-era Bell UH-1 Huey.
Sikorsky has built more than 2,000 Black Hawks for the US Army, and thousands more for other countries. During a tour of the UH-60 production line in May, company executives told FlightGlobal they expected Sikorsky to deliver the 5,000th airframe this autumn.
However, the army is planning to wrap up Black Hawk procurements after the 2027 conclusion of the Multi-Year X deal. Under its Future Vertical Lift initiative, the service is running a competition to select the UH-60's replacement, officially known as the Future Long-Range Assault Aircraft (FLRAA).
Sikorsky's DefiantX coaxial design is a finalist in the FLRAA competition, alongside Bell's V280 Valor tiltrotor. A decision is expected before year-end.
The Multi-Year X contract also includes airframes destined for Foreign Military Sales (FMS) customers. Sikorsky believes foreign interest in the Black Hawk will provide additional life for the UH-60 production line, as it concludes deliveries for the army in the coming years.
"The Black Hawk remains ubiquitous and in demand around the world," Sikorsky chief executive Paul Lemmo told FlightGlobal at the company's Stratford headquarters in May.
Nearly 4,000 Black Hawks are in service with military forces around the world, according to FlightGlobal's 2022 World Air Forces directory.
The aircraft is flown by more than 30 countries in North and South America, Europe, the Middle East, Asia and Africa.