The US Army has started the lengthy process of developing a new engine for its fleet of Sikorsky UH-60 Black Hawk utility helicopters.
The Department of Defense said on 26 August that the army has awarded Sikorsky an $8 million contract to fund data collection and testing related to integrating GE Aviation's T901 Improved Turbine Engine (ITE) into the service's long-serving fleet of UH-60 medium-lift aircraft.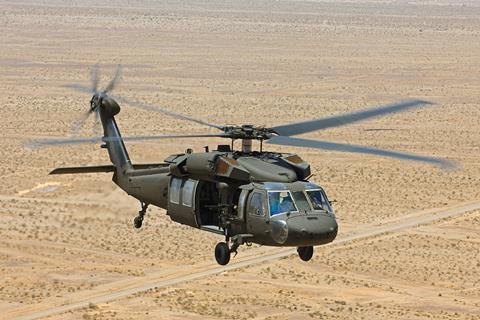 That fleet includes more than 2,260 airframes, according to FlightGlobal's 2022 World Air Forces directory.
GE developed the T901 under a 2019 army ITE contract worth more than $500 million. Part of the service's Future Vertical Lift (FVL) programme, ITE's primary purpose is to power the next-generation Future Attack Reconnaissance Aircraft (FARA) replacement for the retired Bell OH-58 Kiowa scout helicopter.
After some delay related to ITE design setbacks, two FARA competitive prototypes from Sikorsky and Bell are scheduled to make their first flights in the third quarter of 2023.
In addition to powering FARA designs, the army means to retrofit its UH-60s and Boeing AH-64 Apache attack helicopters with the 3,000shp (2,240kW) T901. The service views the engine upgrade as addressing the lagging performance of those types, which are powered by GE's 2,000shp T700 turboshaft.
Black Hawk and Apache airframes have grown steadily heavier since their introduction due to added ammunition, new survivability equipment and advanced sensor technologies, the service notes.
That extra weight, the army says, has made Black Hawks safer and more capable but has negatively impacted performance. The problem is most acute when operating in temperatures exceededing 35°C (95°F) and at elevations greater than 6,000ft.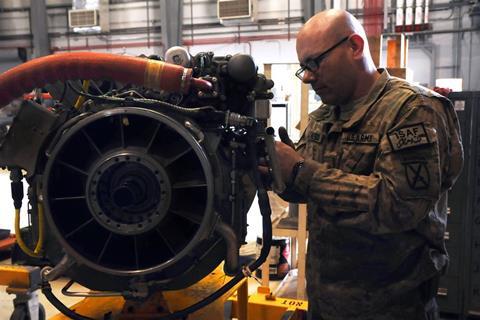 Much of the US military's operating environments over the last 20 years have been in such hot and high conditions, particularly the protracted wars in Iraq and Afghanistan. Excessive heat in the Indo-Pacific region has also been cited by military leaders as a potential complicating factor in possible future conflicts.
Major General Walter Rugen, the army officer in charge of the FVL programme, recently said the service's rotorcraft are nearing the edge of their potential, following decades of modernisation efforts.
The army also notes that the ITE was designed to fit the current engine compartments of both UH-60s and AH-64s, and will provide those aircraft with up to 50% more power and 25% improved fuel efficiency, at similar weight.
Testing and evaluation of the Black Hawk ITE integration process is expected to be completed by Sikorsky in June 2027. The company did not immediately respond to a request for comment.