Excepting critical missions, the US Army has ordered its aircraft and aviators grounded pending completion of training and safety reviews in response to recent helicopter crashes.
Army chief of staff General James McConville "ordered an aviation stand down following two deadly helicopter mishaps that claimed the lives of 12 soldiers", the service says. "The move grounds all army aviators, except those participating in critical missions, until they complete the required training."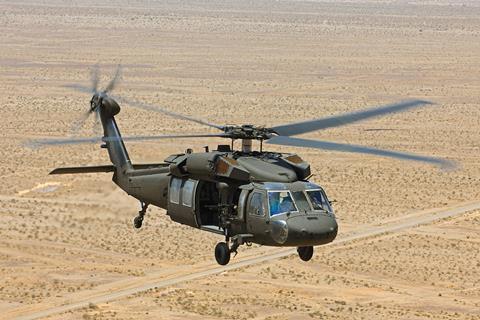 Army active-duty aviation units must complete "a 24-hour stand down" between 1-5 May, while Army National Guard and Army Reserve units will have until 31 May to complete training.
"Army aviation units will resume normal operations following the stand down, after any corrective actions are taken on issues identified in safety or training," the army adds.
The order comes after two Boeing AH-64 Apache attack helicopters collided on 27 April during a training mission, killing three soldiers and injuring a fourth.
That incident came several weeks after nine army soldiers died on 29 March when two Sikorsky UH-60 Black Hawks collided near Fort Campbell, Kentucky, also during training.
"While both incidents remain under investigation, there is no indication of any pattern between the two mishaps," says the service.
"It is their loss that makes it all the more important we review our safety procedures and training protocols, and ensure we are training and operating at the highest levels of safety and proficiency," McConville adds.
The army will use the flight pause to review aviation maintenance and air crew training and to examine how it approves and manages flight risks, it says.