The US Army is continuing the process of modernising its heavy-lift helicopter fleet, having ordered two more Boeing CH-47F Block II airframes.
"CH-47F Block II improves readiness, limits future sustainment costs and provides commonality across the fleet," says Ken Eland, Boeing vice-president and H-47 programme manager.
Boeing disclosed the order on 3 October. The US Army uses CH-47s for missions involving resupply and troop and heavy-equipment transport.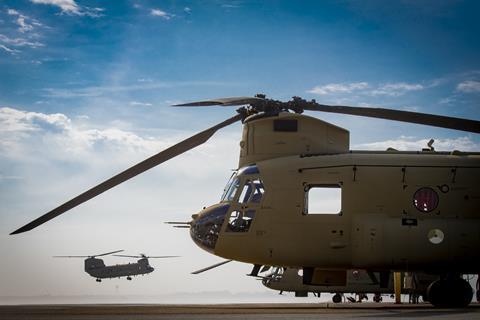 "We're dedicated to making CH-47F Block II the best option for the army's heavy-lift mission, now and well into the future," Eland adds.
The CH-47F Block II upgrade includes redesigned fuel tanks, a strengthened fuselage, and drivetrain enhancements. In 2021, the US Army awarded Boeing a $136 million contract to supply the first four CH-47F Block II aircraft, which began production in April 2022.
The new two-aircraft Lot 2 deal, valued at $63 million, brings the army's total number of CH-47F Block IIs on order to six. A separate Lot 3 advance procurement contract is valued at $29 million.
Boeing has delivered more than 1,000 CH-47s to the US Army over a 60-year period. The service now operates more than 500 examples of CH-47 variants, according to data from Cirium. In addition to the USA, 19 allied countries globally operate Chinooks.
The Block II version of the CH-47F model represents the latest in what Boeing describes as an effort of "continuously modernising the helicopter to meet evolving needs".
In late August, the US Army said it grounded its CH-47 fleet after substandard O-rings were installed in the Honeywell T55 engines of an undisclosed number of aircraft during depot maintenance.
The issue caused some engine fires, prompting the grounding. The army did not reveal how many such incidents occurred.
At the time of the grounding, Honeywell told FlightGlobal it was working "in full coordination" with the army, saying it believed the deficient O-rings had been identified and isolated.
Once the O-ring issue was identified, the army began inspecting and clearing individual Chinooks for return to flight status in September.