The US Army has renewed its long-running contract with Airbus for contractor logistics support (CLS) to the manufactuer's UH-72 Lakota utility helicopter.
Airbus announced the five-year deal, worth up to $1.5 billion, on 23 May. It will be managed by Airbus US Space & Defense, the European aerospace manufacturer's subsidiary based in Arlington, Virginia.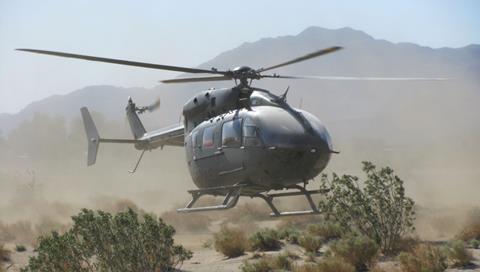 "We are honoured to be extending our relationship with the US Army for another five years," says Scott Tumpak, vice-president of military helicopters division at Airbus in the USA.
"Airbus continues to prove its commitment to providing high-quality platforms and outstanding support to the men and women who fly these exceptional aircraft."
Tumpack says that Airbus has been providing CLS support to the army's UH-72 fleet for more than 15 years. The company produces the Lakota at a facility in Columbus, Mississippi. Logistics support is managed from Dallas, Texas.
"Airbus has provided exceptional product and support services in the UH-72A for nearly two decades," says Colonel Calvin Lane, US Army utility project manager. "This contract underscores the army's trust in the aircraft's capabilities, and we look forward to the continued support this contract provides to the UH-72 fleet."
The Lakota was selected by the US Army to fill the light utility helicopter role in 2006, entering service in 2007; last year the fleet exceeded the one million flight-hour milestone.
The UH-72 is used primarily by the National Guard for search and rescue, disaster response and border surveillance missions. Airbus began delivering the five-bladed rotor UH-72B variant to National Guard troops in 2021.
Operated at 67 sites across the USA, including National Guard installations in 43 states, the Lakota is also used by the US Army flight school at Fort Rucker, Alabama for initial pilot training.