The US Army plans this year to settle details about the future composition of its heavy-lift rotary fleet, a plan that could see the service purchase more Boeing CH-47 Chinooks.
That is according to industry executives and service leaders who assembled on 27 April in Nashville, Tennessee for the annual Army Aviation Association of America (AAAA) conference.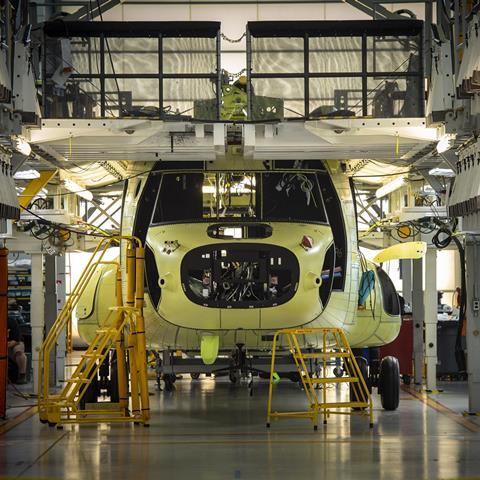 A key choice in that decision will be whether the army initiates large-scale purchases of the latest Block II version of the CH-47 heavy-lift helicopter.
General James McConville, the service's outgoing chief of staff and a Boeing AH-64 Apache pilot, says money will be the primary consideration, as the army seeks to modernise its aviation fleet.
"We're trying to transform the army on a flat budget," McConville says, referring to the next-generation Future Long Range Assault Aircraft (FLRAA) and Future Attack Reconnaissance Aircraft (FARA) development programmes.
Textron subsidiary Bell's V-280 tiltrotor was recently confirmed as the army's final choice for the troop carrying FLRAA. Bell and Lockheed Martin subsidiary Sikorsky are in competition for a contract to develop the FARA scout helicopter.
The army's focus on upgrading its utility-lift and reconnaissance assets has left the future of its heavy-lift fleet uncertain. That role is currently filled by the CH-47F Block I.
Boeing H-47 programme manager Ken Eland suspects the army's decision about whether to pursue a Block II CH-47 order will come this year.
That is because the US government's fiscal year 2025 budget process kicks off in 2024, when service leaders submit budget requests. A Block II CH-47 decision this year would position the army to include CH-47 funding in that request.
"The army has said that they're nearing that decision this calendar year," says Eland.
Senior aviation officers confirm the army will make internal fleet decisions before year-end, but decline to address how CH-47s might fit army plans.
"The army is going to make a decision on the future of the cargo fleet this calendar year," says Major General Robert Barrie, who oversees the army's aviation procurement office.
In the interim, Boeing and the army have reached an agreement to produce what Eland calls the "minimal sustainable rate" of aircraft needed to maintain the company's Block II CH-47 production line.
"We have 10 aircraft under contract today, for the first three lots of low-rate initial production," Eland confirms. He says production of 36 aircraft annually – three monthly – is the optimum rate for the entire CH-47 facility, including Block I, Block II and special operations variants.
"We'll survive at doing this," Eland says, "but it's hard to be efficient, it's hard to be as effective as you want to be, to continue to drive affordability."
Barrie says the army has issued contracts for the first six aircraft, with funding available for four more.
The service in 2021 awarded Boeing a $136 million contract to supply the first four Block II CH-47s. A further $63 million deal for Lot 2 added two aircraft to that total.
Notably, the army did not request funding for any of those Chinooks. Instead, money for all 10 was placed into the defence budget by Congress, essentially forcing the army to procure the aircraft.
Barrie says the army will take delivery of the Lot 1 airframes in 2024.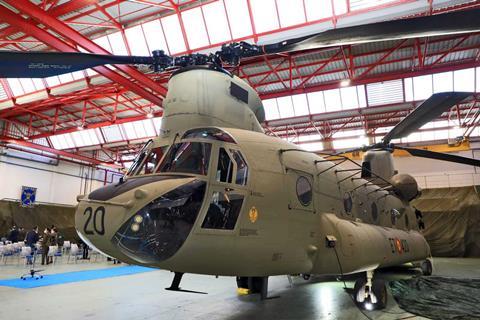 The Block II variant of the venerable Chinook comes with several improvements, including redesigned fuel tanks that are lighter and carry more fuel, a strengthened fuselage for carrying heavier loads, and more useful payload.
While the army has not committed to the type for its many conventional aviation battalions, Boeing is separately under contract to furnish US Army Special Operations Aviation Command with at least 36 of the Block II MH-47G special-operations variant of the Chinook.
The Pentagon's special operations forces typically operate under a separate procurement system from conventional forces. The US Army's 160th Special Operations Aviation Regiment provides rotary-wing support to Washington's elite troops across military services.
McConville confirms that the Block II MH-47G is already in service with the 160th, which was created following a helicopter crash in the Iranian desert that scuttled a 1980 mission to rescue American hostages held captive in Tehran following the Iranian Revolution.
While Boeing awaits an army decision, it is focused on filling CH-47F overseas orders – which have been growing steadily in recent years.
The company is producing Block I aircraft for Spain and has contracts signed or nearing final approval with Egypt for 12 Block I Chinooks, with South Korea for 18 Block I types and, most recently, with Germany for 60 Block IIs.
Those orders represent 107 aircraft, which Eland says will help sustain production until the hoped-for acquisition by the army.
Even if the service decides against procuring more Block II CH-47s, Congress could continue funding purchases. Such tactics are common when lawmakers disagree with the Pentagon's priorities or seek to minimise harm to economies dependant on military spending.
"The support for the Chinook programme is total bipartisan," Eland notes. "We have very strong bipartisan support for the programme, for our workforce and our industrial base."