The US government has cleared the possible sale of 12 Bell AH-1Z attack helicopters to Nigeria.
The potential sale is valued at $997 million and includes a range of support equipment and services, according to the US Defense Security Cooperation Agency (DSCA).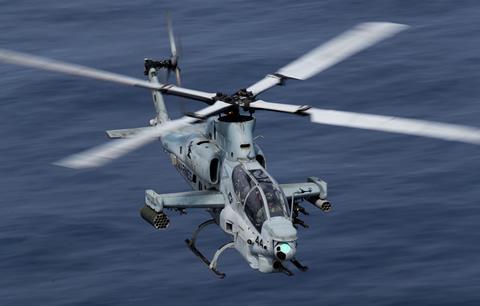 As for weapons, the potential sale includes 2,000 BAE Systems Advanced Precision Kill Weapon System guidance sections.
"The proposed sale will better equip Nigeria to contribute to shared security objectives, promote regional stability and build interoperability with the US and other Western partners," says DSCA.
"This sale will be a major contribution to US and Nigerian security goals. Nigeria will have no difficulty absorbing the equipment and services into its armed forces."
Some $25 million of the funds will also be used to continue Nigeria's Air Ground Integration programme, which includes the development of "targeting processes that are legally compliant with international humanitarian law and the laws of armed conflict."
Nigeria, which has been fighting Boko Haram and Islamic State militants, has beefed up its ground-attack capabilities.
This saw it recently take delivery of 12 Embraer/Sierra Nevada A-29 Super Tucano light-attack aircraft. This stemmed from a November 2018 Foreign Military Sales (FMS) contract from the US government.
Cirium fleets data indicates that the primary operator of the AH-1Z is the US Marine Corps, which has 102 examples in its inventory, as well as orders for 105 more.
Pakistan had ordered 12 examples in 2015 under an FMS deal, but this was frozen in 2018 when former President Donald Trump cut defence funding to the South Asian nation.
The Czech Republic has orders for four AH-1Zs as part of a 12-aircraft deal that also includes eight UH-1Y utility helicopters.