The US government has cleared the possible sale of 40 Sikorsky UH-60M Black Hawk helicopters to Australia, with the rotorcraft to replace Canberra's troubled fleet of 47 NH Industries NH90s.
The Black Hawk sale is valued at $1.95 billion and includes a broad range of additional equipment and services, according to the US Defense Security Cooperation Agency (DSCA).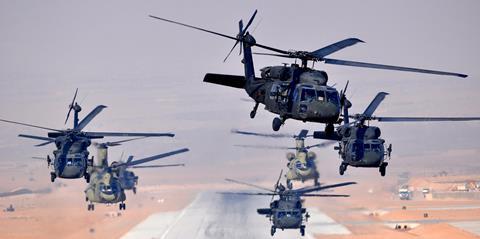 "The proposed sale will replace Australia's current multi-role helicopter fleet with a more reliable and proven system that will allow Australia to maintain the appropriate level of readiness to conduct combined operations," says the DSCA.
"The UH-60M Black Hawk helicopter will improve the Australian Army's ability to deploy combat power to share Australia's strategic environment, deter actions against its interests, and, when required, respond with credible force. Australia will have no difficulty absorbing this equipment into its armed forces."
Included in the package are 88 GE Aviation T700-701D engines, of which 80 will be installed, with eight as spares. Also included are transponders, communications equipment, internal auxiliary fuel tanks, a fast rope system, and training devices.
In late 2021 Canberra decided to ditch its NH90s in favour of the UH-60M owing to the "unreliability" and cost of the helicopter, locally designated as the MRH90 Taipan.
Although the platform only entered service in 2014, it has been plagued with issues, which former defence minister Peter Dutton called "unresolvable".
The new Black Hawks will also replace the Australian Army's legacy S-70s.