The US government has cleared the possible sale of 800 Lockheed Martin AGM-114R2 Hellfire missiles for Australia.
The deal, to be conducted under the Foreign Military Sales process, is valued at $108 million, according to the Defense Security Cooperation Agency (DSCA).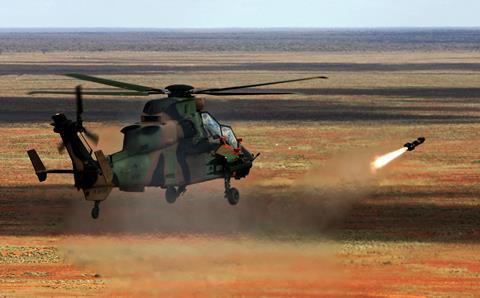 "This proposed sale will support the foreign policy and national security objectives of the United States," says the DSCA.
"Australia is one of our most important allies in the Western Pacific. The strategic location of this political and economic power contributes significantly to ensuring peace and economic stability in the region. It is vital to the US national interest to assist our ally in developing and maintaining a strong and ready self-defense capability."
The package also includes spares, training, and other technical support.
Australia uses the Hellfire from its fleet of Airbus Helicopters Tigers.
According to the US Army, the laser-guided AGM-114R allows flightcrews to select the warhead effects that correspond to specific target types.
In January, Canberra announced that it will replace its 22 Tigers with Boeing AH-64E Apache Guardians, under the country's Project Land 4503 acquisition, which called for 29 helicopters.
This was followed by Canberra's announcement in December that it would ditch its fleet of 47 NH Industries NH90s – locally designated as the MRH90 Taipan – and replace them with Sikorsky UH-60M Black Hawks.