A first of 48 Bell Boeing CMV-22B carrier onboard delivery aircraft has been handed over to the US Navy, with the rotorcraft accepted in Amarillo, Texas, on 7 February.
"Air Test and Evaluation Squadron (HX) 21 will lead developmental test efforts for the programme, and the first operational squadron, Fleet Logistics Multi-Mission Squadron (VRM) 30, is scheduled to receive the aircraft this summer," the navy says.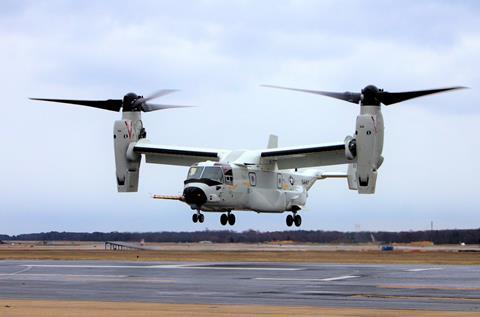 The tiltrotor type will be home based at NAS North Island, California, and NAS Norfolk, Virginia.
A replacement for the fixed-wing Grumman C-2A Greyhound transport, the CMV-22B will be capable of delivering a 2,640kg (6,000lb) load from a shore base to an aircraft carrier 1,150nm (2,130km) away.