Northrop Grumman's MQ-8C Fire Scout unmanned helicopter looks set to gain a new mine countermeasures (MCM) sensor suite after the US Navy (USN) gave the go-ahead for the development.
Working with a number of USN bodies, including the Office of Naval Research, the Fire Scout programme office will integrate the Single System Multi-Mission Airborne Mine Detection (SMAMD) payload onto the platform.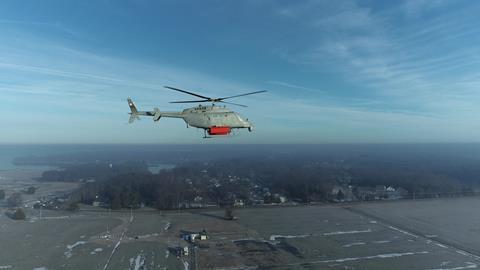 SMAMD will be the heaviest payload carried to date by the Bell 407-based unmanned air vehicle, and its first MCM system.
Developed by BAE Systems, SMAMD uses an airborne optical sensor suite integrated with real-time onboard processing – plus claimed low false alarm rates – to enable a quick response to detected threats.
"This capability is extremely important as we see future fights occurring in the littoral waters where mine warfare is prevalent," says Captain Thomas Lansley, Fire Scout programme director. "A mine warfare capability will greatly reduce risk for Littoral Combat Ships and other vessels in the littoral [environment]."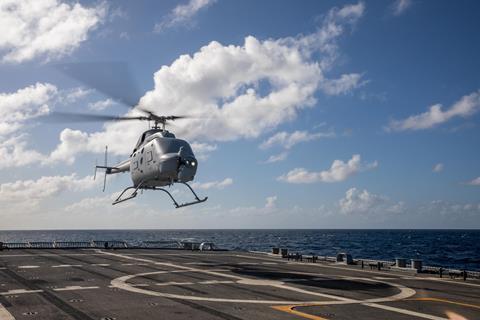 Flying qualities and performance trials using dummy SMAMD pods were conducted in February by the USN's UX-24 test and evaluation squadron
A land-based demonstration of the system will be carried out in the spring at the Naval Surface Warfare Center in Panama City, Florida, using the SMAMD-equipped Fire Scout to detect drifting and moored mines in shallow and deep waters up to 5.4nm (10km) offshore. Data gathered during the activity will inform future integration efforts.