The US government has cleared a potential $500 million package to provide support for rotorcraft operated by the Royal Saudi Land Forces.
The proposed package covers maintenance support services for Boeing types such as the AH-64D/E attack helicopter, and the kingdom's future fleet of CH-47Fs, says the US Defense Security Cooperation Agency (DSCA).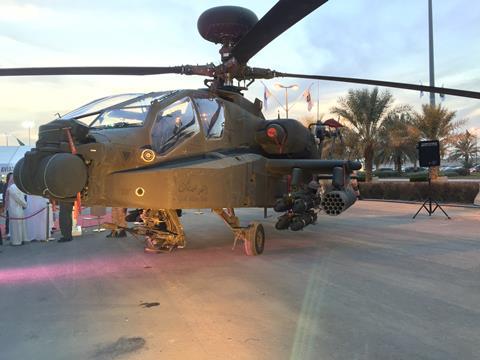 The other helicopter types listed are the Sikorsky UH-60L/M, Schweizer 333 and Bell 406CS.
"This proposed sale will support US foreign policy and national security objectives by helping to improve the security of a friendly country that continues to be an important force for political stability and economic growth in the Middle East," says the DSCA.
"The proposed sale will improve Saudi Arabia's capability to meet current and future threats by the continuation of MSS services that will aid in the maintenance support of Saudi Arabia's rotary-wing aircraft fleet, engines, avionics, weapons, and missile components. Saudi Arabia will have no difficulty absorbing these articles and services into its armed forces."
The DSCA did not name a vendor, but states that Saudi Arabia generally requires offsets, which can be negotiated between Riyadh and the vendor.
In addition, the contract involves two US government personnel as well as 350 contractor representatives in Saudi Arabia for two years.
Cirium fleets data suggests that the Royal Saudi Land Forces operate 80 rotorcraft, including 24 UH-60Ls, 19 S-70As, 15 Bell 406CSs, and 11 AH-64Es, in addition to others.
Cirium also lists 25 AH-64Es and eight CH-47Fs as being on firm order.