US officials have approved the possible sale to Spain of eight Sikorsky MH-60R Seahawk multi-mission helicopters for operation by the country's navy.
To be acquired via the Foreign Military Sales mechanism, clearance for the deal was granted by the US Defense Security Cooperation Agency (DSCA) on 15 March.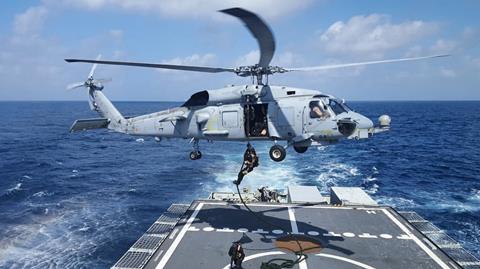 Worth an estimated $950 million, the acquisition also includes Lockheed Martin AGM-114R Hellfire missiles, plus 2.5in rockets and BAE Systems Advanced Precision Kill Weapon System guidance kits.
Sonobuoys and sonar equipment – the latter to be installed on four aircraft – for the anti-submarine warfare role also feature in the sales determination, alongside mission planning systems, and spares and logistics support.
Madrid currently operates 14 older-variant Seahawks, with an average age of 26 years, Cirium fleets data records; eight of the navy's MH-60s are around 30 years old.
The DSCA says the proposed sale will provide Spain with the capability "to perform anti-surface and anti-submarine warfare missions along with the ability to perform secondary missions including vertical replenishment, search and rescue, and communications relay".