The US government is speeding up deliveries of Sikorsky UH-60M Black Hawk helicopters to Australia, aiming to fill a capability gap created by the early retirement of the NH Industries MRH90 Taipan.
US Secretary of Defense Lloyd Austin announced, during a visit by Australia's defence minister Richard Marles to Washington DC, that several Black Hawks have already been delivered, and that subsequent shipments are being accelerated.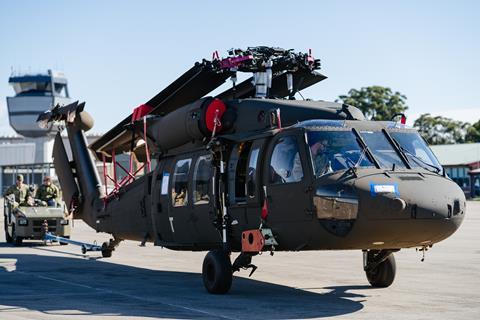 "We're accelerating the delivery of Black Hawk helicopters that you ordered earlier this year," says Austin. "The first arrived in Australia just a few months ago and more are on the way and coming even faster."
In January, Canberra confirmed that it would obtain 40 UH-60Ms through the US government's Foreign Military Sales process to replace the MRH90 – the local designation for the NH90.
The MRH90 had a troubled history in Australia, characterised by severe sustainment and readiness issues. Problems with the type came to a head in July when an MRH90 crashed in the sea during an exercise, killing four crew members.
The crash prompted a fleetwide grounding, and in September Canberra announced that the type would be prematurely withdrawn. Earlier plans had called for the MRH90 to be withdrawn from December 2024.
When announcing the MRH90 withdrawal, the Australian Department of Defence said that three UH-60Ms had been delivered already.
Marles thanked the US government for speeding up deliveries. He adds that it underlines the close relations between the two countries.
In an subsequent interaction with reporters, Marles declined to specify the timeline for the accelerated deliveries.
"I'm not going to go into specifics, but the number and timing has been sped up," says Marles. "And that is so as to avoid or to minimise, as much as possible, capability gaps which arise by the grounding of the MRH90 fleet.
"We've been completely clear that it is a capability challenge that we've grounded the fleet and made clear that that we won't be flying again."