California-based manufacturer of electric vertical take-off and landing (eVTOL) aircraft Archer Aviation is seeing a surge in interest from military service officials.
The start-up on 7 August said it recently hosted a formal visit by a group of leaders from the US Marine Corps (USMC), during which Archer showcased its all-electric Midnight aircraft.
"Archer is working closely with the members of its government services advisory board to more fully engage with US government and public safety agencies around the country to explore opportunities to commercialise its eVTOL aircraft," the company says.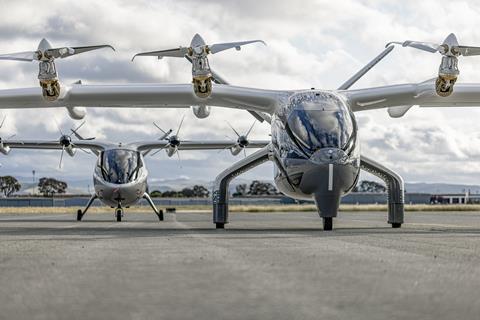 The visit by USMC officials shortly follows a July agreement between Archer and the US Air Force worth $142 million for up to six Midnight aircraft. The company's primary business focus is the development of eVTOL models for commercial air taxi service.
Archer told FlightGlobal on 31 July the yet-to-be-certificated Midnight will be part of the air force's AFWERX Agility Prime programme to "assess the transformational potential of the vertical flight market and eVTOL technologies for US Department of Defense purposes".
Archer is making the case to Pentagon brass that its eVTOL aircraft have value to add in modern combat operations. The company is focusing on operations including personnel transport, logistics support and search and rescue.
"[Midnight] is expected to provide a much safer and quieter alternative to helicopters while being more cost effective for the US military to transport, operate and maintain in the field," the company says.
Archer recently completed manufacturing its first Midnight aircraft, which has a target payload of approximately 453kg (1,000lb). While the Pentagon does not currently have plans to develop an all-electric aircraft for front line service, retired US Army Major General Clay Hutmacher says interest is on the rise.
"The low cost, low noise, high safety nature of Archer's Midnight makes it a very compelling aircraft for all branches of the US military to integrate into their fleet," says Hutmacher, a former Special Operations Command aviator who now sits on Archer's government services advisory board.
While the USMC has not formally moved to procure the Archer aircraft – or any other eVTOL models – the service is in the midst of a generational transformation. Leaders at the Pentagon are seeking to reorganise the naval infantry force for dispersed operations on small Indo-Pacific islands, after the previous two decades of heavy ground combat in the Middle East.
The initiative, known as Force Design 2023, focuses on building small units of USMC ground troops armed with precision munitions – such as the Raytheon Tomahawk cruise missile – supported by naval ships far out to sea.
The US Navy (USN) and USMC are exploring new aircraft solutions for providing logistics support to such distributed forces, in addition to re-purposing existing platforms.
Service leaders plan to expand the role of the Bell Boeing CMV-22 Osprey tiltrotor beyond carrier resupply to support the USMC's expeditionary forces. The naval variant of the Osprey boasts 50% greater fuel capacity than the marine corps' MV-22 medium-lift version of the type.
However, those are likely to be augmented with novel aircraft designs using non-traditional propulsion systems and autonomous flight.
In December 2022, the USA's Naval Air Warfare Center successfully tested the use of unmanned aerial systems (UAS) to resupply ships at sea. In that demonstration, an autonomous Skyways V2.6B hybrid-electric VTOL and a Martin UAV V-Bat 128 VTOL both transported cargoes weighing less than 22.5kg to a vessel underway.
Another company, Rhode Island-based Regent Craft, is pitching its ground effect "seagliders" to the USMC and USN as a novel method for conducting long-range ship-to-shore logistics at high speeds.