Airbus Helicopters and the French DGA military procurement agency have conducted tests of the VSR700 unmanned air vehicle (UAV) in a full operational configuration, for the first time carrying out 80 autonomous take-offs and landings at sea.
Performed off the coast of Brittany in northwest France from a civil vessel, the latest test campaign builds on two series of trials that took place at the DGA's Ile de Levant site in the south of France in late 2022 and early 2023.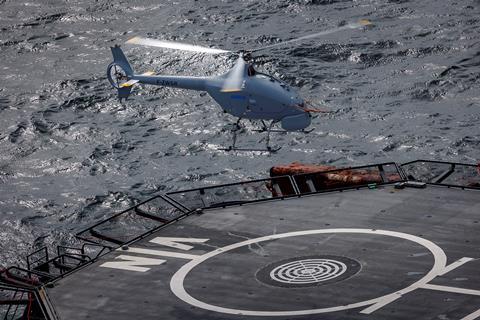 "This flight-test campaign was an important step for the VSR700 programme as it allowed us to validate the excellent performance of the drone in operational conditions, which were representative of its future missions," says Nicolas Delmas, head of VSR700 programme at Airbus Helicopters.
He says the prototype flew in winds above 40kt (75km/h), accumulated 8h of testing across 14 flights "and made successful landings in several different sea states."
Airbus Helicopters in 2022 trialled the UAV's autonomous take-off and landing system from the same vessel using an optionally piloted version of the Guimbal Cabri G2 light single-engined helicopter on which the VSR700 is based.
To date, the French government has contracted Airbus Helicopters to produce two VSR700 prototypes under a study programme called Systeme de Drone Aerien pour la Marine, launched in 2017.
Sensors include a maritime surveillance radar, an electro-optical camera, and an AIS receiver, alongside the mission system developed by Naval Group.

Dominic Perry is deputy editor of Flight International but also contributes extensively to flightglobal.com. Although specialising in the coverage of the helicopter industry, he has written on most topics in aerospace – be they commercial, defence or business aviation. In addition, there has been an increasing focus on the decarbonisation of the industry and zero-emission flight initiatives.
View full Profile