For the vast majority of its existence Bristow Group has been synonymous with helicopter operations. From its roots providing offshore transport to the oil and gas industry, through a growing focus on search and rescue operations, the company has amassed one of the largest fleets of rotorcraft globally.
But that 206-strong fleet of medium and heavy helicopters could very soon be eclipsed. Beginning in August last year, the company has embarked on an extraordinary order spree for next-generation full- or hybrid-electric aircraft. To date, deals are in place for a total of 380 examples, plus 75 options, from seven different manufacturers.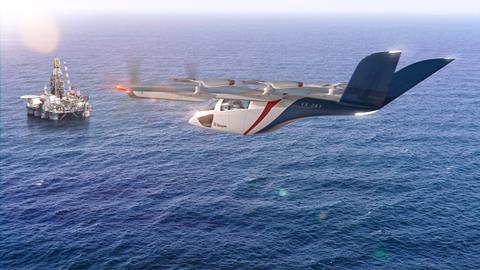 These vary from electric vertical take-off and landing (eVTOL) designs from Embraer spin-out Eve and Vertical Aerospace, through unmanned cargo drones – the Elroy Air Chaparral – to Electra's hybrid-electric short take-off and landing (STOL) aircraft.
Of course, the vast majority of these commitments – excepting a firm order for five Beta Technologies ALIA-250s – are highly conditional in nature and may not see Bristow take the full number of aircraft cited in the press releases. Nonetheless, if only half of the total enter service, it will still represent a profound change for the company.
Leading that effort is chief transformation officer Dave Stepanek, a rotorcraft industry veteran. Although outside observers might see the influx of new types – and potentially the introduction of new operating models – as a complete upending of the status quo, Stepanek is adamant that the strategy is less a fundamental shift, more an extension of the firm's existing capabilities.
His argument is that with 70-plus years of experience in vertical-lift operations, Bristow is ideally placed to shape, and take advantage of, the coming aircraft and propulsion revolution.
However, before the firm could concentrate on this emerging market, and what the future for Bristow looked like, it first had to complete the integration with Era Group, following the merger of the two firms in June 2020.
Once that was out of the way, says Stepanek, the operator was able to begin thinking about both its future and what it could bring to the segment: "That led us to write down or really think about what our core competencies are at Bristow and how this would apply to advanced air mobility. We started thinking about 70 years of safety management and operations of helicopters and fixed-wing aircraft… and managing a global fleet… [across] 11 air operator certificates and maintaining a strategic supply chain for all those aircraft around the globe."
Bristow, he points out, also has plenty of experience in the introduction of new aircraft, having been launch customer for both the Leonardo Helicopters AW139 and Sikorsky S-92 (it will also be first to operate the former's AW609 tiltrotor next year). Additionally, as it owns around 85% of its fleet, the firm has over the years "built up intellectual property" around maintaining and supporting those aircraft, alongside dealing with different regulators, on a global basis.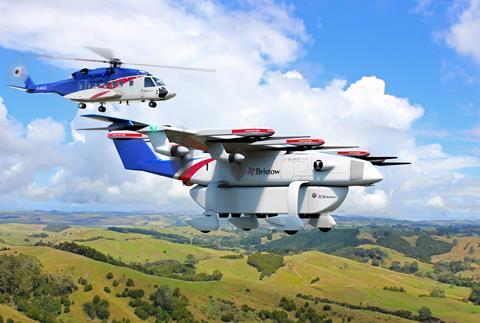 Stepanek argues that this allows Bristow to be many things: it can use the aircraft in its own operations, it can fly them on behalf of another airline, it can repair and maintain them, or all of the above. Its recent memorandum of understanding with Lilium is a case in point: under the agreement Bristow will set up a Part 145 maintenance operation in support of the OEM's Florida launch network and acquire up to 50 Lilium Jets that it may fly in the southern state.
Similarly, the interest in Vertical's VX4 – likely to be flown in the UK or the USA – would appear to pit Bristow against other customers for the type including American Airlines and Virgin Atlantic. But Stepanek sees its operation as complementary rather than competitive: "We are not here to compete with these major carriers – we think that with our intellectual property and our ability to operate, we could assist in bringing a broader reach to their customers," he says.
However, it is the energy sector, where "we think there are unique opportunities to start an early adoption model addressing its needs", he says. Oil and gas companies "move a lot of stuff and a lot of people all of the time and it's expensive for them" both in cash and carbon terms, regardless of the transport mode.
"So where could we look in their logistics chain to help them reduce carbon [output], lower their costs and perhaps even increase safety?"
By its very nature, the offshore oil and gas industry locates its logistics hubs at the end of the road, presenting sometimes challenging, often restricted, access. Stepanek cites Port Fourchon in Louisiana as a case in point: it is the region's big energy hub, supporting 400 vessels and 15,000 people offshore, but geography forces 1,500 trucks down a two-lane highway daily. If Bristow could use a low-carbon, low-cost transport mode to address that bottleneck, that model could be potentially rolled out to other oil industry centres across the world, he argues.
But Stepanek stresses it is about moving "life-sustaining equipment" to the port itself, rather than offshore. "That's the early idea; it's a market we can get our arms wrapped around." That will allow Bristow to fully understand the potential – and limitations – of the new breed of vehicles and how they would fit in across a range of applications, he says.
That "constrained environment" will serve as a sandbox to allow Bristow to better evaluate the new breed of air vehicles before they enter more widespread use. "We are in a revolutionary place for aviation, [but] aircraft operations and the safety of operations are evolutionary and we have to take an evolutionary look at this. We can't just snap our fingers and become the Jetsons," he says.
Bristow will also be cautious about how it initially deploys the different aircraft, he says. "I don't want to inundate the Gulf of Mexico with five different new models." Instead, they will be deployed throughout the company's global operations.
"That way we spread out the operational risk… without having to take on a bunch more cost and people, by using our current capabilities."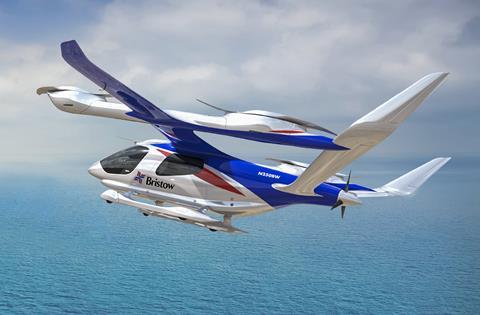 Stepanek also sees the new aircraft types as operating alongside Bristow's existing rotorcraft fleet rather than replacing it. "We see them today as complementary to our helicopter business. They may, in the early stages, offset some of the light helicopters, but we really see this as an opportunity to create a parallel path for Bristow and continue operating traditional helicopters for our traditional customers – for the search and rescue business, for the long-range oil transportation – until the technologies improve in the advanced air mobility space.
"But we can operate in parallel because those vehicles will grant us access to markets that we can't work in today because of either cost or noise."
He does not think an electric air taxi will replace an AW189 or S-92 for long-range offshore transport, in the short-term at least, but sees that if cost and safety considerations allow there may be a future opportunity to use, say, four eVTOL aricraft for a mission previously flown by one large helicopter. However, the applicability for such a mission is much more likely to be in a benign environment like the Gulf of Mexico rather than the North Sea in winter.
The interest in the Electra aircraft is also somewhat of a departure for the company: Bristow has not really embraced fixed-wing operations, save for its continued ownership of Australian regional carrier Airnorth and a brief flirtation with the UK's Eastern Airways (ultimately curtailed by its Chapter 11 restructuring), both on the back of their links with the resources sector. Indeed, Stepanek says he initially "discounted" the concept, as "short-field take-off and landing is not what we do, we need vertical [take-off]".
But he then met with Electra's chief executive John Langford "and talked about it, looked at the applications that we could use it for, and how that vehicle could fit into that collaborative network… of bringing people into different industrial environments." Airnorth's operations in support of the resources industry, sometimes flying from short or rough airstrips make it an ideal candidate to trial the eSTOL design.
Although the total number of aircraft on order might seem excessive, Stepanek is confident in Bristow's forecasts: "What we have done is looked at each of these aircraft OEMs that we have done deals with, we have looked at the application we want for early adoption and these are the numbers we think we'll need."
In fact, internal modelling of the aircraft requirements for a hypothetical regional air mobility network in a large US state reveals "that network is larger than Bristow globally in terms of aircraft and people", he adds.
To date, the company has made only "small" financial commitments against its order book – "nothing that's material, nothing that we have had to report", says Stepanek. "What we are doing is using our sweat equity to help this process and [secure] early delivery positions and hopefully to be able to shape the general operations of these aircraft."