The new president of NH Industries (NHI) believes three nations seeking to ditch their fleets of NH90 helicopters are abandoning the programme at the worst possible moment, arguing that long-sought availability improvements are just around the corner.
Axel Aloccio took over as the head of NHI in mid-September and, as has been the case throughout the manufacturer's recent history, was immediately forced to deal with a crisis of sorts when Sweden announced on 1 November that it was proposing to replace its 18-strong NH90 fleet.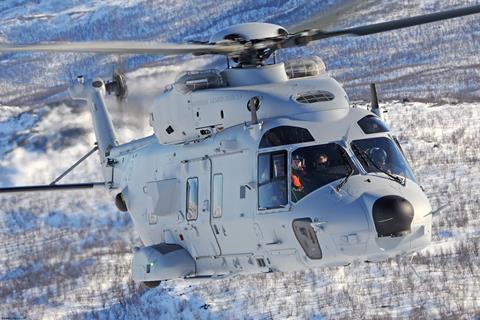 Stockholm joins Australia and Norway, which have revealed similar decisions over the last 12 months, in seeking to exit the military helicopter programme. Should all three proceed, that will represent a combined 79 NH90s removed from the active inventory – or around 15% of the total.
While each nation has specific complaints, the common thread linking their decisions is a continued dissatisfaction with availability rates.
But Aloccio, speaking exclusively to FlightGlobal, says improvements to that metric are within reach. "We feel that the timing is a bit unfortunate because we feel they have done most of the hard work."
He points out that a customer does not acquire a platform and make the associated significant investment in training and support "just for 10 or 15 years – you do it for 50 years".
The service-entry phase for a new aircraft – "the difficult part" – can take that long to work through, Aloccio adds. "So, they have done most of the hard work – and just when the system starts working they are about to, or at least they are considering, phasing out the NH90."
Aloccio compares the situation to a mountain stage in the Tour de France cycle race where "there's a big climb and it's hard" but once you reach the summit "you know the most difficult part is done and then it starts to be flat or even downhill.
"But this is where they decide to get off the bike and give up."
In recent months, availability rates in Australia and Sweden, at least for the latter's nine anti-submarine warfare-roled examples, have been well above the global average, he adds.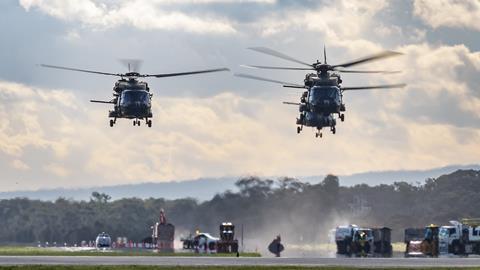 Aloccio also argues that "dropping the NH90 now" would not be the most cost-effective solution for the countries or their taxpayers given that billions of dollars will be required to bring alternative helicopters into service.
Instead, if "they invested even a very small fraction of that into further enhancing the NH90 support system", additional pilots or technicians could be trained, or more spare parts procured, he says.
"We are offering them many things for a very small fraction of what they would invest in procuring new helicopters."
But whatever direction those nations eventually choose – and Australia and Norway appear particularly intractable – Aloccio says NHI will "respect their decision" and will "support them until the end".
Under Aloccio's predecessor Nathalie Tarnaud Laude, NHI and its partner companies – Airbus Helicopters, Leonardo Helicopters and GKN/Fokker – launched a transformation plan called New Horizon, designed to deal with a range of issues that were hindering up-time improvements.
Speaking to FlightGlobal in December 2021, she promised that system-wide changes, such as better spare part availability and localisation of overhaul services, would drive average global fleet availability to 50-60% by the end of 2022.
However, Aloccio admits NHI has failed to reach that target, with average global fleet availability sitting at "a little bit above 40%". Of course, an average figure disguises the extremes: at one end, some operators are hovering around 90%, while others are "achieving much less".
The inability to achieve the promised increase is down to numerous factors. Some – the ongoing supply chain crunch, the war in Ukraine – are outside of NHI's control, but Aloccio admits there has been a longer than hoped for period of "latency" – the time taken for any changes made to have an effect on averages taken over a six- or 12-month period.
Despite this, he is confident that progress will become apparent "over the next 12 to 18 months", when "we will definitely see an improvement in the KPI, that's for sure".
The length of time it is taking to retrofit early-build aircraft to the latest standard – another source of complaint for operators – has also only improved slightly, from 24 months in late 2021, down to a minimum of 18 months at present.
Of course, other customers dissatisfied with these aspects of the NH90's or NHI's performance, emboldened by recent announcements, may feel that a year-and-a-half is too long to wait to see any improvement. Does Aloccio think that others will follow suit and exit the progamme? "I have no reason to believe that they will," he says.
"But we are working very closely with all the other nations to tell them what we are doing. We also keep them informed of the status of our discussions with Australia, Sweden and Norway."
NHI is sharing "in full transparency", all the changes it is implementing to the supply chain and support system, as well as longer-term enhancements to the helicopter itself.
Although you can divide NHI's strategy into short- and long-term actions, Aloccio argues that even those designed to drive up availability today will have a lasting impact on the programme.
"We are convinced that in the long run we will have an extremely robust support system that will work, and that will more importantly be able to cater to the needs of all the nations in terms of achieving their flight-hour targets."
As an example, he points out that maintenance inspections have been extended from 600 to 900 flight hours – a 50% increase – and the time before overhaul for dynamic components has been extended from 1,200h to 1,800h. Crucially the new figure is a multiple of 900, so the maintenance inspection and overhaul activity can be synchronised.
Additionally, Aloccio sees a performance-based support contract, launched by France and Germany during the summer, as a blueprint for future sustainment activities: "The same discussion now is also being extended to other NH90 nations which have shown some interest in such contracts."
Aloccio declines to say precisely which customers are interested but notes that they are all members of NAHEMA, which, besides the two nations above, also includes Belgium, Italy and the Netherlands.
These long-term actions are key, he argues, as based on the current backlog and the likelihood of further orders taking production out to 2030, plus a life-extension, the NH90 will probably be in operation until 2070 or 2080.
To achieve that seemingly distant goal, NHI is carrying out a study of the composite fuselage to ensure it will last for 50 years, two decades beyond the previous limit. Aloccio hesitates to prejudge the results of that research, which are due in early 2023, but says: "We already know the study should be positive."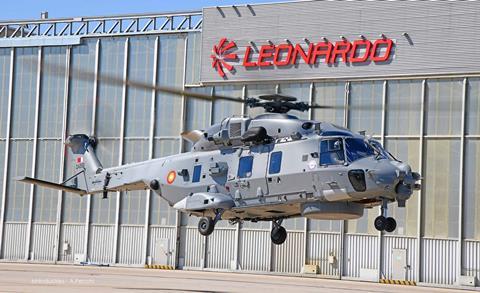 That should provide operators with a "long-term perspective", allowing them to consider other future upgrades of mission equipment or weapons. "But the foundation is to really have the core vehicle last 50 years – and this should be confirmed early next year."
There are around 110 NH90s still to be delivered, including examples to core nations France, Germany, Italy and Spain, plus to Qatar, the latest export customer; by year-end, NHI will have delivered the 500th helicopter. Aloccio remains confident that top-up orders from existing operators alongside those from nations new to the programme can still be secured.
"The NH90 story didn't start and will not end with Australia and Sweden, and we will continue to support these five, six hundred, maybe seven hundred aircraft in the long run," he says.
"And we are investing together with all the partner companies of NHI… into making sure that we will have a support system that is able to respond to the needs of those aircraft."
The content of a potential mid-life upgrade is also being discussed with operators, although Aloccio stresses there is "no rush" to decide on its content as it will not be implemented until the mid-2030s – around 30 years since the first NH90 was delivered.
He is also anxious to clear up what he feels is a misconception about – or at least mischaracterisation of – the NH90: "On social media you often see people saying the NH90 is a peacetime helicopter, not one for wartime and this is something that annoys me," he says.
He points to deployments in "high-intensity conflicts" in Afghanistan, Iraq, and Mali, and to anti-piracy and anti-smuggling missions off the Somali coast and in the Caribbean, where, despite harsh operating environments and logistical challenges, "each time the helicopter has performed extremely well in terms of mission capability and maintenance.
"When deployed the NH90 has always had between 70-80% availability – even when it's been in theatre without the support of industry," he says.
"The NH90 is not just for disaster relief or training – it's a military helicopter for wartime. We know this is what our customers expect. We want to support them deploying the NH90 in theatres of operations everywhere."

Dominic Perry is deputy editor of Flight International but also contributes extensively to flightglobal.com. Although specialising in the coverage of the helicopter industry, he has written on most topics in aerospace – be they commercial, defence or business aviation. In addition, there has been an increasing focus on the decarbonisation of the industry and zero-emission flight initiatives.
View full Profile