Back in September, Gian Piero Cutillo marked his fourth anniversary as the head of Leonardo Helicopters. It would make for a more dramatic narrative if those four years had been a period of tumultuous change, but – save for pandemic-blighted 2020 – the story is around steady growth. Perhaps that is understandable given Cutillo's background: rather than the aerospace engineering qualifications of his predecessor Daniele Romiti, he holds a degree in economics and a masters in business administration, and prior to his appointment as the managing director of the helicopters division he was chief financial officer of the Leonardo group.
With that in mind, financial performance has been solid across the four years: divisional revenue in 2018 (Cutillo's first full year in charge) stood at €3.8 billion ($4.27 billion), growing to €4 billion in 2019. While revenue was flat in 2020 – again at €4 billion – it was a strong performance considering last year's disruptions. In addition, Leonardo Helicopters has been positioned for the future thanks to the 2020 acquisition of Swiss rotorcraft developer Kopter and its then SH09 programme for $185 million. The move has given the company a ready-made – development work depending – civil complement to its increasingly military-focused AW119 light-single, and access to a new pool of engineering talent.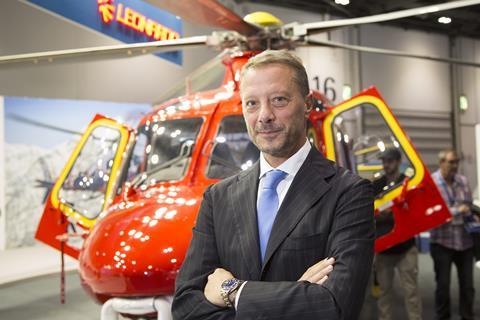 Cutillo, as you might expect, is pleased with the progress he has seen. "Overall I feel satisfied – at the end of the day the company is really moving with the right sense of urgency, it is getting the results with enough speed," he says, praising the "outstanding support" he has received from across the business.
That support was crucial last year, he argues, as the company was faced with the upheaval of the Covid-19 pandemic.
While every manufacturer across the globe eventually had challenges to overcome, disruption to Leonardo Helicopters came early in the pandemic: its Cascina Costa headquarters and Vergiate final assembly line are both in Lombardy – a region of Italy that was hit first, and hardest, by Covid-19.
Despite the proximity, Cutillo says the production shutdown lasted "no more than 10 days" as the company "reshaped" how it operated in order to ensure the safety of its workforce. Essentially, industrial operations never stopped, he asserts.
Deliveries in early 2020 were inevitably caught up in travel snarls related to Covid – either ferry flights could not take place or customer crews could not come to Vergiate – leading to a year-on-year decline, falling to 111 units in 2020 from 156 the previous year.
But, crucially, order momentum was maintained: the company brought in €4.4 billion last year, only a slight decline on 2019's €4.6 billion total. Cutillo highlights a cumulative total of €20 billion in orders over his time in charge and a book-to-bill ratio consistently above 1:1. "You know how important the backlog is," he says.
This year, "I think we will be beating the guidance", he predicts, while pointing out that even in Covid-afflicted 2020 "the results of the division were not below 2019's performance".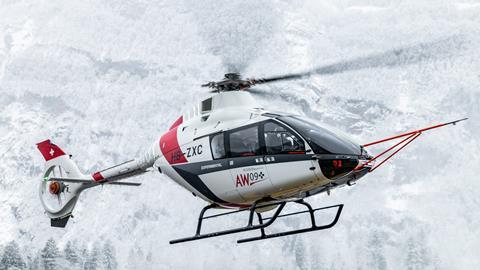 Key to the recovery in 2021 though is improved performance in the civil market. "Frankly speaking, after nine months of the year we doubled what we did last year. It means the signs of the recovery are clear," he says.
"Even if it's going to take two to three years it seems we are recovering with a higher speed than we originally planned."
But the market for civil helicopters was sluggish even prior to Covid, having been hit by a particularly vicious downturn in the oil and gas segment. The boom times for that sector will not be returning any time soon, he believes: "I don't want to say that kind of size [market] is gone, but unfortunately this additional crisis came when supply was still greater than demand."
Leonardo Helicopters' only real rival in the civil space is Airbus Helicopters, which has a similar range spanning the weight classes from light-single upwards. The Franco-German firm can claim dominance in certain areas – the H135 and H145 light-twins in the 3-4t class, for instance – whereas for Leonardo the "the sweet spot is 4-7t", essentially the AW169 and larger AW139.
In the latter case, it is a helicopter that sells with metronomic regularity and is very much the star – in sales numbers alone – of the civil range. But having had that intermediate segment to itself for a long time, the AW139 has a new challenger in the form of the Airbus Helicopters H160. While ceding anywhere between 400-800kg (880-1,760lb) in maximum take-off weight to the AW139 (depending on the version), the France-built type is a newer design powered by newer engines. While it will only enter service in early 2022, the H160's presence in the market has prompted questions of whether the AW139, which first flew in 2001, might be in need of an update, particularly of its twin Pratt & Whitney Canada PT6 engines.
But Cutillo sees no need for immediate alarm; any upgrade would be "in the medium period" around "five years [away] maybe", he says.
"I remember when I started doing this job I wondered if the AW139 might be at the end of its life-cycle but honestly I don't see this now. It is really the strongest seller and we do see that it is appreciated more and more by the customer," he says.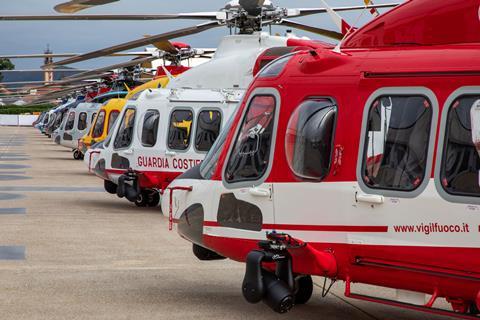 "I think it's the right combination of the platform cabin and the power; it is really the perfect mix. It gives you what you need in terms of performing the mission. I was told at the beginning maybe some thought it was a bit overpowered, but when you look back we see maybe it was the right choice."
He stresses that he does not "want to underestimate either the [competitor] company or the product", but says Leonardo is guided by its customers, not what a rival might be doing. "What we are doing to really set the most effective roadmap for us… [is] trying to really look to the market and what the customer wants, rather than the competitors.
"At least in this specific segment it is our competitor that has to look to us, not vice-versa. But we respect Airbus – they are a good company."
Although there is no immediate imperative to move, that does not mean the manufacturer is standing still: Cutillo says it is analysing a range of options for the helicopter, as it has been over the last 15 years: "We will do everything we can to keep the AW139 at the highest level in its segment," he says.
"There's absolutely no rush, but we simply cannot relax on that. Sooner or later [an upgrade] is something that we are going to have to face."
In part that may be driven by the push to decarbonise aviation. Initial momentum in that direction will be provided by sustainable aviation fuels (SAFs) – what Cutillo calls the "easiest" solution – and Leonardo is "looking for its engine partners" to help move beyond the current 50% blend limit on its products.
In addition, improvements to engine performance should yield better fuel consumption – and consequently lower carbon emissions. But for a bigger step-change in performance, the application of new technologies will be required.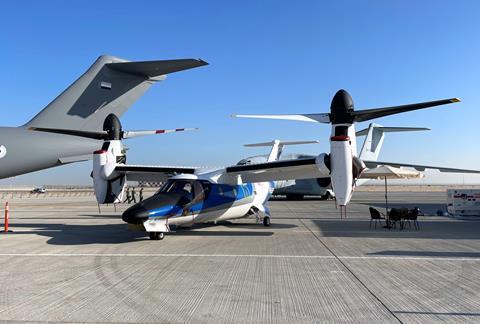 Cutillo says that a hybrid powertrain is likely to be the first step to bring innovation to rotorcraft propulsion, and the company is investigating its implementation on the AW09 light-single, as the Kopter SH09 has been rebranded.
The AW09 will not only be Leonardo's "new long-light-single", says Cutillo, but a product where "we really have a technological second step to demonstrate hybrid or full-electric propulsion." The hybrid-electric version – likely using a parallel hybrid design based on previous patent filings – is being worked on at the same time as the baseline helicopter at sites in Wetzikon, Switzerland, Ottobrunn, Germany and Cascina Costa in Italy. That development activity should accelerate once the AW09 achieves certification in the coming years, but so far, says Cutillo, "We are getting interesting results."
But he is adamant that as the market for vertical take-off and landing aircraft develops over the coming decades there will not be one single technology that dominates. For sure, Leonardo is banking on a tiltrotor architecture for certain missions – its AW609 is inching towards certification, while work is well under way on the EU-funded Next-Generation Civil Tiltrotor demonstrator. "I truly believe that it is going to change point-to-point transportation. It is a wonderful mix between the two [rotary- and fixed-wing] worlds," says Cutillo.
Equally, other designs will also come to the fore, but for a vast chunk of operations, a traditional helicopter will still be required.
"We believe we will have to follow the path of having traditional helicopters but much more sustainable, much more connected, because this is what the customer is asking for," says Cutillo. "We will have the introduction of new propulsion, maybe hybrid, maybe electric, maybe traditional propulsion but with a much, much lower level of fuel consumption. It is clear that we will have to go in that direction."
There will also be more and more missions, surveillance, for example, or anything else dull, dirty or dangerous, that will be "performed by unmanned vehicles".
But one area where Leonardo has been relatively silent is on its strategy for urban air mobility solutions, in contrast to other parts of the industry which are aiming to begin passenger services in the mid-2020s. But Cutillo does not think the airframer is lagging: "I don't believe that we are behind at all. We are taking a different approach," he says.
At the moment, that means "we are doing our homework", he says. "We will move forward on that – it could be through some partnerships – but it's important that we proceed. I would say that for the time-being we are doing a lot of homework rather than exposing ourselves.
"Definitely we are there – we are not simply watching by the window. We have some kind of roadmap in mind," he says.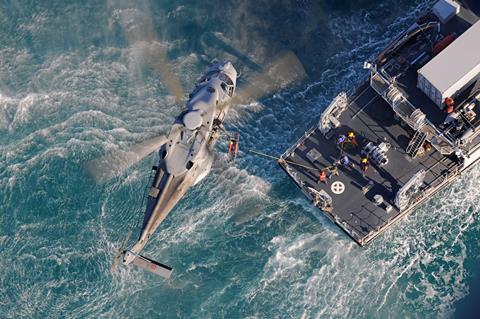 Military operators are also looking to the future and potentially a capability step-change from their rotorcraft fleets. The USA is driving ahead to achieve greater speed and range through its Future Vertical Lift programme and several non-US NATO members are leading the alliance's work on its Next Generation Rotorcraft Capability initiative. In the latter case the countries involved include France, Germany, Italy and the UK – the domestic customers of Airbus and Leonardo. All of which points to the fact that Europe's helicopter manufacturers will likely be working together in the future, reprising their partnership in the NH Industries consortium that builds the NH90.
Cutillo seems happy to accept this, noting that "on this specific area collaboration could be one thing that really allows us [to progress], because you are talking about a really huge level of investment.
"We are ready to provide all our capability and experience together with any partner – on either side of the Atlantic and for a collaborative, not dependent effort – to do the best on this." Although Leonardo has clearly invested in tiltrotor technology, Cutillo is cognisant that "tiltrotor, co-axial or compound [designs] won't be the answer for every mission".
First the customer has to set the requirements "and after that industry has to do its own job to see how we can match these requirements and at what cost."
That latter point may be key as extra speed and range do not come for free, be that in the capital cost of the platform or how much it costs to operate or maintain. All of which means that the regular helicopter is likely to still have a place.
"There is still room for traditional rotorcraft too – you don't need to perform all missions with a supersonic jet," Cutillo says.