Flights of Leonardo Helicopters AW159 Wildcats operated by the Army Air Corps and Royal Navy were recently "paused" on safety grounds, the UK Ministry of Defence (MoD) has disclosed.
No details regarding the reason for the short grounding or its duration have been revealed by either the MoD or the manufacturer, however.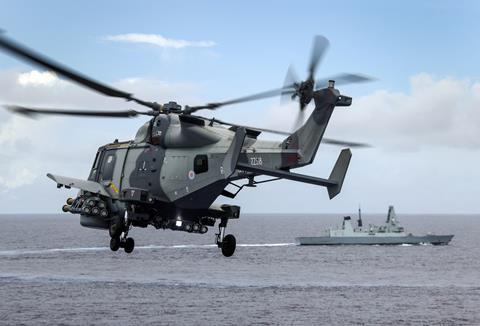 "'Following a routine safety inspection, an issue was identified with a Wildcat helicopter. Flying was paused while the matter was investigated, flying operations have now safely resumed," says the MoD.
FlightGlobal understands that the operational pause lasted around a week and was related to a problem with the aircraft's tail rotor.
Leonardo Helicopters also confirms the halt to flights, which was, it says, "due to the early detection of a potential issue in a single aircraft.
"Flying was paused while Leonardo engineers investigated the report. Essential operational flying is now being resumed," it says.
Further precautionary checks are likely to be carried out on the fleet.
In total, the UK has a fleet of 62 Wildcats: the Army Air Corps flies 34 examples of the AH1 variant, while the Royal Navy operates 28 shipborne HMA2s.
With the UK's New Medium Helicopter (NMH) contest beginning to heat up, the timing of the issue is far from ideal for Leonardo Helicopters, given the potential for knock-on reputational damage.
Leonardo built the Wildcats at its Yeovil plant in southwest England, which is also the proposed location for assembly of its NMH candidate, the AW149.

Dominic Perry is deputy editor of Flight International but also contributes extensively to flightglobal.com. Although specialising in the coverage of the helicopter industry, he has written on most topics in aerospace – be they commercial, defence or business aviation. In addition, there has been an increasing focus on the decarbonisation of the industry and zero-emission flight initiatives.
View full Profile